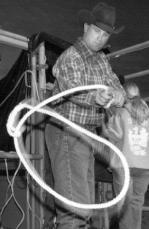 Happy New Year!
Ok, now exhale. It's ok -- the slew of holiday parties is over, so relax and let the drumstick hangover set in. Don't fight it! There you go. Nope, that wasn't a kick and you're not pregnant, that's just grandma's pecan pie repeating on you. Ok, inhale again.. but slowly.
Thankfully there were tons of games that released in December to ease the burden of these next few digestive winter months. Battlestar Galactica hit table tops in Decmeber, just a month before the final season airs, the cult hit Talisman received a substantial facelift, and with the release of Chicago Express we finally saw the emergence of Eurogame that's once again worth your time. Plus, the WWII tactical slugest "Tide of Iron" expanded once again, and that's always a good thing.
Looking forward to January, we'll be keeping our eye out for more details on the upcoming Age of Conan board game, and keep an eye peeled on what's next for World of Warcraft Minis, have a review of that franchise as well, and start looking toward the significant Empire Total War PC release.
Stay frosty till then.
Board Games
Card Games
Cheap Deals & Sales
Collectable Card Games
Gaming Culture
Gaming News
Party Games
RPGs
World of Warcraft TCG
Critical Gamers Staff at
Permalink