Critical Gamers 2008 Holiday Gift Guide - Party Games
Now while we love a board and some strategy in most of our games, they're not the right fit for a social evening. That's where party games come in - they tickle the exhibitionist side of everyone, and promote social elements of gaming in a far stronger light than the cerebral mind-game of positioning and placement. Most importantly, they make us laugh our buttocks off.
We're not going to lie to you; the releases in 2008 weren't very friendly to the party gamer. Sure, you could suck it up and buy the heavily commercialized Partini
, but it's just the rehashed/ reboiled essence of decade-old Cranium repackaged under a new publisher, and we simply can't suggest that to anyone.
So for this year's guide we revisit our favorite Party Games. These titles still top our table even after numerous repeat plays, some over the span of years, and that's saying something. So as much as this is a Holiday Shoppers List, also consider these choices our Best of Party Games Eva' list, too.
---
Apples to Apples
[
Amazon
,
Funagain
]
In our humble opinion Apples to Apples puts most other party games to shame, making Cranium's party games seem like a clunky dinosaur of a Game-Design past. Apples to Apples remains pegged at the top for the most popular party games in America, and it's for good reason.
Players of Apples to Apples match a crazy combination of word-cards to make a judging player laugh. Each round a point is awarded to whomever played the "best" word. It's really as simple as that. This isn't a battle of wits like Trivial Pursuit, or a battle of drawing skills like Pictionary. This is 'appease the high overlord by making him laugh (usually), and win all the points." How could that not be fun?
If the person that you're shopping for has already picked-up a copy of Apples to Apples, then maybe you can give them one of the expansions:
Each of these extends the games with 500+ new cards, which makes the potential number of word combinations one billion, six hundred seventy million, four hundred thousand and forty two - or something like that.
---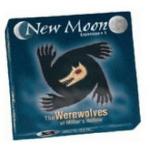 Werewolves of Miller's Hollow
[Amazon, Funagain]


This is a great party game classic for 8-18 players. In fact the more people, the better. Simple rules, and no board nor confusing pieces, so just about anyone get pick it up and start playing - even the usual non gamer! Great for kids, and older groups will have to have enough maturity to keep an open mind: While this game doesn't technically constitute as role playing, the players will have be have social fortitude to know that they may have to come out of their shell a bit.
That's because players are assigned characters to play in a a town that's under attack by a werewolf (also a player). At the beginning of the game the players are dealt cards that secretly assigns them one of the town's major characters: Hunter, Seer, Witch, Little Girl, etc. Identities are not formally revealed because one one character is the lurking werewolf.
Play resolves around day / night cycles. During the day players question each other and present evidence on who the were wolf is. After some deliberation they cast their vote, and the accused towns person is .. well.. murdered. If it wasn't the werewolf, then then the werewolf just got that much closer to vicitory.
Then night sets in,. The players close their eyes n' ear holes and the the werewolf silently moves in for the kill, secretly murdering one of the towns folk. Other events occur at night, too, such as the Seer's ability to secretly peek at one o the towns players cards to see who they are.
Now the game requires a moderator, but this could also be any one of the people who has bitten the dust from earlier play. With that in mind the game requires absolutely no overhead, at all, and is great for groups especially interested in socializing. It's 90% of the game!

Those of you already knee deep in werewolf kills should pickup the New Moon Expansion [Amazon, Funagain] which adds depth with a series of new event cards that shakes things up nicely.
---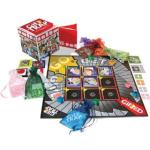 GiftTRAP
[
Amazon
,
Funagain
]

Winner of Games Magazine's best party game of 2007, GiftTRAP is in many ways an evolution of the great matching techniques of the elder Apples to Apples party game. The game is really a good time among friends who know each other well; strangers will not be as easily amused, however,
That's because this a game all about knowing the folks who sit around you. Players of GiftTRAP are presented with a series of gifts drawn randomly from the game deck. These could range anywhere from a pet poodle, to an adventure vacation, to a set of china plates (hint, we don't want that one). Players then look around the table and judge who will like each gift the most. Seeing as each gift can be given only to one person, players must weigh for themselves how they divvy up their sack of presents to please everyone at the table, even if they have to give a lump of coal (maybe someone is a geologist).
Everyone works off the same group of gifts, so the other players do the same secret gift giving selection as you are.
Then in the next step of the round, you yourself rate which presents you want the most. Players reveal their selections and points are awarded to those who have given gifts to the people who've wanted them the most. If a player gives a gift to someone who doesn't want it, then Sorry! Negative points for you.
GiftTrap is a fun game, but also one of those games where you learn something about your friends in each session. Hilarity also ensues for groups who know each other well, since some of the gifts are really, really out there and you have to give at least something to everyone.
---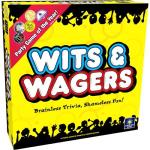 Prior Selections
Just in case this year's selections didn't fill your engine, here are our selections for Party Games from the 2006 Holiday Gift Guide and the 2007 Holiday Gift Guide.
---
Be sure to check out our other gift ideas in the Critical Gamers' 2008 Holiday Gift Guide Index.
Read More in: Board Games | Card Games | Gaming Culture | Gaming News | Our Game Reviews | Party Games
Share this Article with others:

Related Articles:
Came straight to this page? Visit Critical Gamers for all the latest news.
Posted by Critical Gamers Staff at November 24, 2008 1:29 PM