Critical Gamers 2008 Holiday Gift Guide - Family Games
We once again kick off our annual series of Board Game Holiday Shopper guides with probably the most difficult of gaming archetypes: The Family Gamer. Our goal was to compile a list of fun games that span the disparate interest levels of younger players, teens, and adults where challenge and creativity is more interesting than following the rules.
Here's our most important criteria for the choosing games for our Holiday Board Games Guide for Families:

Games that are interesting for adults, too. Even though we recommend these games to families, we still want play any and all of these games because they're fun for us despite the fact that we're in our 30's.
Games that are simple to learn - but yet interesting and offer a quite a few levels of depth. They have to be rewarding for everyone who comes to the table.
Games that keep everyone involved from the first turn to the last, unlike the traditional family games from our past - like Monopoly.
The games come to a conclusion in about an hour so they're easy to budget time for, and you won't feel that board game hangover as you burn the midnight oil.
There's no surprise that this list jives with many characteristics of Eurogames which came out of Germany in the 1990's - since they were designed for exactly this type of gaming. Also, these games listed here would be great for non families, too, like any social board game group looking to get together a few times a month to play games and just hang out.
And here's our list of Family Games for the 2007 Holiday Season without any further ado:
---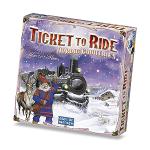 Ticket to Ride Nordic Countries
Nordic Countries
[
Amazon
,
Funagain
]
[
our coverage
]
Honestly, any Ticket to Ride game will do. We chose Nordic Countries because it's the latest and greatest from one of the best family-friendly franchises in the market.
Ticket to Ride games are played by drawing cards of various colors of train routes on the map. You claim a route by playing the same number of same-color cards as that route, scoring points by just laying track but then also gaining points for connecting specific cities together. Everything is random and dynamic, and most importantly fun. There's also quite a level of depth on how you draw cards, when you draw cards, and when you claim routes. The game series can be enjoyed on quite few different levels which makes it our top holiday choice once again.
If you haven't played a Ticket to Ride game then we recommend starting at the original: Ticket to Ride [Amazon, Funagain], and working your way through the series: Ticket to Ride Europe, Ticket to Ride Marklin, and Ticket to Ride Switzerland. The latest edition - Ticket to Ride Nordic Countries - is focused around a smaller map and is designed for 2 to 3 players instead of the standard 4 in most of the rest of the series.
---
Zooloretto, Aquaretto, and new XXL Edition
Zooloretto
[
Amazon
,
Funagain
]
Aquaretto
[
Amazon
,
Funagain
]
XXL Expansion
[
Amazon
,
Funagain
]
For those young families we highly recommend Zooloretto or it's spinoff Aqualretto. Just this fall a new expansion hit shelves - Zooloretto XXL - which extends both editions of the game, be them surf based or turf based.
Zooloretto puts players in control of their own zoo, competing to expand on their collection of colorful animals contained within. The game easy to pickup, while also remaining strong in the gameplay, and let's face it - kids love the fluffy zoo animals. But this game isn't just about cute pandas, Zooloretto won the Spiel des Jahres (German Board Game of the Year) award for 2007, joining quite a prestigious list of historic favorites such as the Settlers of Catan, Ticket to Ride, and Carcassonne.
---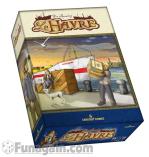 La Havre
[
Funagain
] [
Our Coverage
]
La Havre is the most complex game on the list, geared toward an older audience (12 & up) and includes themes of property purchases, investments, production, and sales. Picture it as a new generation of Monopoly - but with much more dynamic and fun facets - and you can see where it's going. The game borrows from its award-winning predecessor Agricola [Amazon, Funagain], which has a farming theme and is much more widely available. If you haven't played that title and can't find La Havre anywhere (it was recently released), then Agricola is a sure win as well.
La Havre puts players in the role of investment tycoons in France's second larges port. Each player will purchase raw materials , push them through their own processing plants & ships, or pay to use another player's, and attempt to sell their finished goods for cold hard francs. The trick is that everything is randomly drawn, from the goods to the various buildigns availalbe for purchase. Games will span-out quite different after each play, but yet somehow through all this dynamic content the game remains easily approachable and a blast to play.
Players are evaluated and ranked in the end-game on their shipping, manufacturing and cash assets at the end of the game, and with random draws and setup there are quite few different avenues and styles to play to get you to the top.
We're not going to lie to you - this might end up being the best game of the year. If it sounds at all interesting and your family is ready for something beyond Ticket to Ride then definitely pick- up La Havre or Argicola. You won't be sorry.
---
Prior Selections
Just in case this year's selections didn't filll your engine, here are our selections for Family Games from the 2006 Holiday Gift Guide and the 2007 Holiday Gift Guide.
---
Be sure to check out our other gift ideas in the Critical Gamers' 2008 Holiday Gift Guide Index.
Read More in: Board Games | Gaming Culture | Gaming News | Our Game Reviews
Share this Article with others:

Related Articles:
Came straight to this page? Visit Critical Gamers for all the latest news.
Posted by Critical Gamers Staff at November 20, 2008 9:52 PM