Critical Gamers' Board Game Roundup July 2010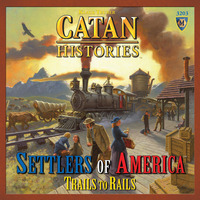 Man, what a summer for board gaming. Usually we're outside soaking in the rays, but spending any length of time under the sun this summer would turn us into crispy pieces of human bacon. Thankfully there have been gobs of great releases to keep us busy in the sanctuary of indoors.
Mainly the new Settlers of Catan game Settlers of America. That title is a throwback blue ribbon prize wrapped in a blanket of awesome new game mechanics. And July also saw two major wargame system releases for the tacticians out there: The Song of Ice and Fire themed Battles of Westeros, and the inaugural release of the Battles of Napoleon wargame system: Eagle and the Lion. We love high-caliber system releases like these because you just know that expansions, new content and new factions are already in the works.
August is looking pretty darn sweet, too, with the mass distribution of the Thunderstone Wrath of the Elements expansion, and with the release of Axis & Allies Europe 1940 which, when combined with Pacific 1940, should prove to be as epic as One Man On a Bench versus a Fifteen Foot Long Sandwich. Can't wait.
Here are our stories for July:


Board Games
Card Games
Cheap Deals & Sales
Gaming News
Party Games
Read More in: Gaming News
Share this Article with others:

Related Articles:
Came straight to this page? Visit Critical Gamers for all the latest news.
Posted by Critical Gamers Staff at August 2, 2010 5:10 PM