Stonghold: Undead Announced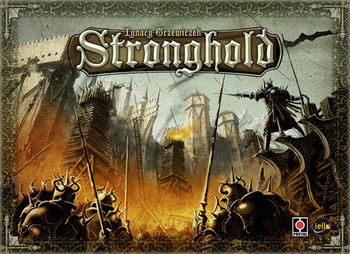 The first expansion to 2009's highly successful castle siege board game Stronghold has been announced. Where as the original title (scheduled to be reprinted at the end of the year) pitted human defenders against the forces of orcs and trolls, Stronghold Undead does something unexpected: throws in legions of the undead skeletons under the control of an evil Necromancer.
OK, so maybe that was pretty expected. In fact, it was inevitable. Undead are all the rage these days...what's unexpected is that they weren't in the original game. So prepare for some more Stronghold awesomeness coming later this year!
BoardGame News has the Full Story.
We'll keep your apprised of the official game details as they're released. For a great review of the original Stronghold, check out Tom Vasel's Review.

Read More in: Board Games | Gaming News
Share this Article with others:

Related Articles:
Came straight to this page? Visit Critical Gamers for all the latest news.
Posted by Critical Gamers Staff at July 28, 2010 3:45 PM