Critical Gamers' Board Game Roundup June 2010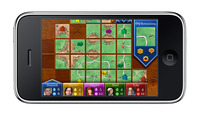 There has been a ton of news this month, but if we were to sum it up with one word it would be: Carcassonne for the iPhone. Sure that's not one word, but we don't care -- the game is something spectacular.
For one the game is highly polished. It oozes awesometown. Sure, it's still just Carcassonne at its essence. The key here is how its so accessible. We're able to play so many games online with friends at our own pace, anywhere, any time, or with randomly matched strangers in some competitive sit down ranked matches. It's so easily accessible that its become more than just playing, it's become like a study of Chess. Akin to what GamesByEmail did for Axis & Allies in letting us flush out the bad strategies, and hone the good ones into some slick moves.
Here's the rest of the True News
Board Games
Card Games
Collectable Card Games
Gaming News
Party Games
Variants
iPad
iPhone
Read More in: Board Games
Share this Article with others:

Related Articles:
Came straight to this page? Visit Critical Gamers for all the latest news.
Posted by Critical Gamers Staff at July 1, 2010 5:05 PM