WoW TCG Wrathgate Expansion Hits Shelves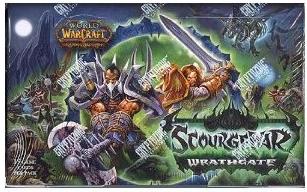 The Summer is officially here. Every year the same thing happens. No, not that glorious Memorial Day weekend of BBQ and beers that denotes the passing of spring into summer for beach goers. That's too obvious. Plus we were supposed to be remembering our troops, not boozing it up for some sun, remember?
Nope, our new summer begins when the final chapter of yet another WoW TCG Cycle has been hoisted onto gaming shelves across the world.
And the WoW TCG Scourgewar Cycle has just come to a close with the latest Wrathgate Expansion [Amazon, Funagain] release. Boy howdy.
We're excited for a a few reasons. There's the usual giddiness over any new WoW TCG set release ( there are only three a year after all) . That's just a given. After all it's two things we love well balanced and then jammed into one small package that's well-deserved of a nerd frenzy.
Wrathgate is also a few landmarks for this franchise. First it marks the survival of the WoW TCG from what could have been a cataclysmic event when Upper Deck got sued for counterfeiting earlier this year. But Blizzard stepped up and spun off a new publishing company to keep the card game alive and well. And as proof -- here it is on gaming shelves near you.
Finally, in the WoW mythos, this release marks the Argent Crusades push into depths of Northrend to defeat the Lich King himself. With that now complete the the WoW TCG franchise has finally caught up to the World of Warcraft MMORPG. We're crossing our fingers now, but we expect the next cycle next fall to coincide with the upcoming Cataclysm Expansion for both the card and PC format. Oh baby, think about that!
So what should you expect from Wrathgate? Well the official previews have told us that the Nerubian faction has been all but tabled for now. Instead expect various Unique heroes from the Argent Crusade to be the beef of your deck, with numerous cards buffing any and all unique allies that you control. Also expect less of a focus on Death Knights and more goodness for the old school classes.
There won't be any new keywords introduced in set, but the designers have crafted up some allies that use interesting combination of the existing mechanics, some even invoking Death Rattle which was previous an ability card mainstay.
It all looks very promising, and should keep the summer months interesting at our gaming table. You can see for yourself at WoW TCG DB who've posted the Entire Collection of Wrathgate Cards.
Enjoy! WoW TCG Wrathgate is now shipping from Amazon (booster boxes) and Funagain Games (booster packs).
Read More in: Collectable Card Games | Gaming News
Share this Article with others:

Related Articles:
Came straight to this page? Visit Critical Gamers for all the latest news.
Posted by Critical Gamers Staff at June 3, 2010 5:25 PM