Zombie State: Diplomacy of the Dead is On Our Radar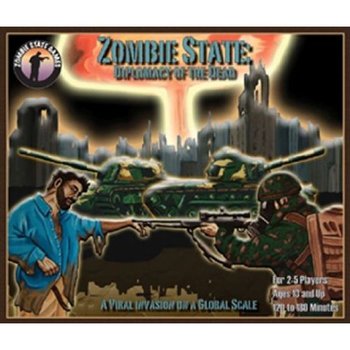 Last night was a crazy blur, well for one of us. For a lack of a better name let's call him Russ. Well Russ was minding his own business at a party last night, hanging out by the cheese log and grapes, admiring the high quality disposable tablecloth. Meanwhile across the room Russ' wife let loose that he's a Critical Gamer. Normally that means bubkis, but suddenly before Russ knew what hit him there was an overly excited gamer in his face spitting Ritz as he gushed over 2010's quite release of Zombie State: Diplomacy of the Dead [Amazon]
Now we haven't played this title yet, but from what Russ could gather between dodging food particles and drunken hand gestures is this potential gem of the year is a mix between Diplomacy and Pandemic. That is: while everyone is dealing with an world wide outbreak, the game is not entirely cooperative to seal the disease off. Instead everyone serves their own best interest. Plus, Zombies. Gotta love the zombies.
Players acts as leaders of different regions of the world, complete with distinctive population levels, wealth for armies, and natural resources that aid in researching zombie killing technology, But war isn't forged amongst these disparate regions. Instead zombie outbreaks pop up and plague different portions of the planet. While you may let a zombie out break stew in foreign lands while you sit pretty and become more powerful, you may want to start lending a hand to an opponent in case the Z really hits the fan and zombies start pouring over your borders, too. Hence, the delicate balance of Diplomacy in a world stricken in zombie Apocalypse.
Details of the game intrigue us. Enough so that we've ordered a copy of the game, and its going to be the centerpiece for our August 2010 Dorkfest coming up in just a few weeks.
If you want more details on the game then checkout the game's rulebook, and the game's official website. We'll let you know how our Apocalypse turns out in a few weeks.
Read More in: Board Games | Gaming News
Share this Article with others:

Related Articles:
Came straight to this page? Visit Critical Gamers for all the latest news.
Posted by Critical Gamers Staff at August 3, 2010 5:10 PM