New Civilization Board Game Announced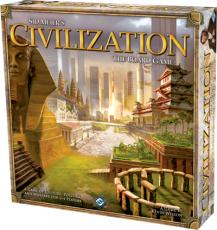 Oh boy. We're HUGE fans of the Civlization line of PC games (loyal readers might note that we're stoked about next month's upcoming Civilization 5). The series plays like a board game on your PC, which makes sense considering it was based on a board game in the first place.
But it's been a long time since the early 1990s when the first Civ game came out for Windows. The series has evolved considerably over the last few decades, incorporating new ways to win the game, new ways the sow the lands, new cultural elements, new armies and discoveries. Aside for striving to be the most influential Civilization in human history, from stone age to space age, the latest incarnations of the Civilization line of PC games are nothing like the oldies.
So is it time to remake the series into a board game? Heck yeah. And who better to do it than the masters of complex game elements: Fantasy Flight Games.
Below are the details. For more information check out the game's Product Description on FFG. We'll keep you posted as more information is released by way of preview articles. Enjoy!
---

"Designed by Kevin Wilson, Civilization: The Board Game is inspired by the legendary video game series created by Sid Meier. Players are tasked with guiding an entire civilization throughout the ages, taking ownership of your people's technology, economy, culture, and military, as well as all the choices that go along with them. There are four different paths to victory, and each is riddled with opposition.

In Civilization: The Board Game, 2-4 players take on the roles of famous leaders in charge of historical civilizations, each with their own abilities. Players will be able to explore a module game board, build cities and buildings, fight battles, research powerful technology, and attract great people by advancing their culture. No matter what your play style is, there is a civilization for you!"

- Fantasy Flight Games

---
Read More in: Board Games | Gaming News
Share this Article with others:

Related Articles:
Came straight to this page? Visit Critical Gamers for all the latest news.
Posted by Critical Gamers Staff at August 5, 2010 1:47 PM