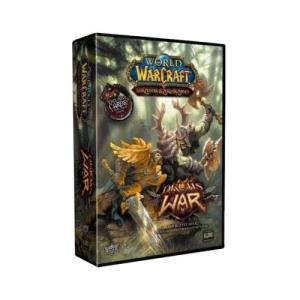 It's hard to believe that we're entering the third year of World of Warcraft Trading Card Game is entering it's third year. Yep, our favorite modern TCG came out in '06 - if you can believe it - and with Drums of War we're already entered the third block of cards heading into the Winter.
The big question is what next? What have the Upper Deck designers concocted in that backroom laboratory of theirs to keep us focused on the TCG, especially when the new WoW Minis are the latest hot franchise that may distract us (WoW Mini's Review coming early in the new year).
Well the official Upper Deck feature article "World of Warcraft TCG 2008 Year in Review" has some answers. While it catalogs the year past, the latter half also lays down some expectations for the first half of 2009, and all the releases slated for this new set.
Some quick backstory: The main theme of the World of Warcraft massively online roleplaying game was centered around groups of players attacking AI controlled monsters through teamwork Later Player versus Player combat was added along with its perks: battlegrounds, honor rewards, and armor and weapon sets gained in the gladiator centric Arena battles.
The recently released WoW TCG Set: The Drums of War expansion began a new cycle, and it's centered on the Player versus Player material of the MMORPG. Continuing that line will be the Blood of Gladiators expansion slated for a March '09 release. It introduces elements from the World of Warcraft close-up and personal 2v2, 3v3 and 5v5 Arena combat. Then in June or July, Fields of Honor will include aspects of the MMORPG Honor System and larger scale PvP battlegrounds. The expansion will also include a new mini-game type modeled after one of the battegrounds: Warsong Gulch.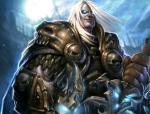 The Wrath of the Lich King expansion that added gobs of new content to the MMORPG in November has introduced the Death Knight class to the game, and 2009 will see its introduction to the WoW TCG as well. The Death Knight Deluxe Starter is scheduled to ship in June '09, and comes with a kick-start to its set of cards to ensure your Death Knight is viable against your current hero collections. It also includes two Death Knights, one for Alliance and one for Horde, so it's a complete Death Knight kit in one. Should be an interesting New Toy to play around with, but of course we're concerned with the balance. Adding a whole new approach to battle with a new class is always a risk proposition.
Finally, a bit of interesting news that should shake things up: A new World of Warcraft TCG Game format will hit tables in May. Here are the details::
---

May 2009--Arena Grand Melee: A fun new way to use your World of Warcraft TCG cards! Mix in a little MMO humor, some crazy new mechanics, and a few friends--good times are sure to ensue. Tournament players will also get new content in the form of "preparation" cards for each class that can be played for free and two new heroes with a twist. Also included are two new mini pet cards.

---
Details are light for sure, but coupled with the Warsong Gulch mini game, this maybe just what the franchise needs in order to keep parity with the dynamics of the WoW Minis game, which has some pretty freeform rules that allow for all sorts of easily-created game types from the community base.
In all, the franchise seems strong. We weren't quite a fan of the Traitor Mechanics from the 'Burning Crusade block', but he last few expansions have remained strong, and we really liked the Drums of War release. Considering the pedigree, some team based mechanics and a continuation of top notch gameplay, art, and materials should knock us off our feet this year. iIt better, considering the number of games competing for our dollar these days.
Here's to next year!
Critical Gamers Staff at
Permalink