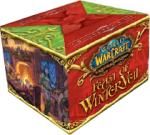 Upper Deck has reshuffled some release dates for their upcoming products. Once again another Raid Deck is delayed as Magtheridon's Lair silently slips it's scheduled release until January 2008.
It's a bummer for sure - not the end of the world but our eyelid still twitches in frustration. This "announcement" comes buried in the Upper Deck forums with no news on the official website news page, nor an article or a press release. So, last night we begrudgingly dusted off The Molten Core and attempted to rerun it with our alternates. We got smoked, so we have set a goal for ourselves to accomplish and that should keep us busy for the next few months.
We're sorry to say that some stores don't know the raid has been delayed and still list the expansion as either an October 2007 / November 2007 release, probably because they don't read the forums. And why should they? Upper Deck should be responsible and let the anxious gaming public know what's what. Blizzard doesn't pull this stuff with their original World of Warcraft franchise, nor does Fantasy Flight games with their Warcraft board game franchise. Upper Deck - once again - looks like it needs more staff in their PR department.
Anyway, the short of it: don't be fooled by any November release dates!
Here's the updated schedule:


Continue reading:
"WoW TCG Release Dates Shift: Feast of Winter Veil and March of the Legion in November, Maghteridon's Lair Delayed"
Critical Gamers Staff at
Permalink