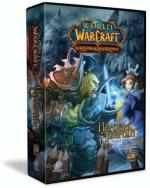 Want to get started playing the WoW TCG? Then pick up a Starter Deck and a few booster packs. Also check-out Our Review.
The release of WoW is shaping up to be one of the biggest things in TCGs this fall, and we thought we'd end the week with some World of Warcraft TCG links that surfaced over the last few days. First up is an
unofficial WoW TCG FAQ
that an industrious dwarf named 'ripark' put together and then posted in the game's official forums. The FAQ borrows info from company literature, game manuals, and incorporates posts from WoW TCG Designers to create what seems like the most comprehensive guide about the game to date (other than the rules, of course). Here's a bit that we found settles a few questions that we had about the girth of the first release and future expansions for the game:
How many sets a year are going to be released? I can't keep up with 50 sets a year! Good news then, UDE has said that they will be sticking to a 2-3 set release schedule.

How many classes are going to be represented in the initial set?
All of them. There will be one Hero card for each class/faction combo. So, eight classes on Horde side and eight classes on Alliance side in the Hero card variety.

How many cards will be in the first set?
361

How about rarities?
Currently we are looking at 5 different rarities, each color coded based on how items are color coded in the WoW MMO. Common is white, uncommon is green, rare is blue, epic is purple and legendary is orange. There will be a little over 20 epic cards in the first set and will include the Thrall card and about 100 rares. The epics are printed at twice the rarity of a rare so you can expect around 3 epics per booster
Next up is a Hero builder. Those of you with your ear to the ground will recall that the focus of a WoW deck is the a hero. Each hero sports specific traits like race, faction allegience, class, class specializations and trade skills. Now, unlike most cards in the game, the hero cards don't seem to have rarities yet (so we don't think creating your own is that big of a problem). Also each booster will come with at least one hero, so they'll be gobs of heroes spilling out into your collection when the game ships. But due to randomness you might not get the hero card you're looking for. So why not create your own?
Enter The World of Warcraft TCG Database Hero Creator, which lets you customize your own hero card's name, art, specializations, ability text, the works. Don't want to play with Ta'zo the Troll Mage, but instead you want to throw down your Undead Warlock from the online game? No problem!!
Well, actually... slight problem. Not all of the race/class combinations have art assets yet, probably due to the lack of variety in the game's initial run of heroes. Still this tool is a pretty freakin cool way to bring your World of Warcraft MMORPG hero into the World of Warcraft TCG.
If you're still reading this that means you're truly interested in the WoW TCG, and we saved this last bit for you true believers. Fist Full of Comics, a comic book blog with a touch of gaming news, has a podcast interview with a few World of Warcraft TCG desginers. Now, these guys only have two TCG/CCG stories on their website, and they refer to World of Warcraft as "Worlds of Warcraft" in multiple locations, so don't expect this to be a punchy Tim Russert Interview full of hard hitting questions. The interview starts off relatively standard (and if you've seen the WoW TCG session video then some of it may seem repetitive), but there's still plenty of cool info to glean once the designers get going about half of the way through.
Enjoy the weekend!
Critical Gamers Staff at
Permalink