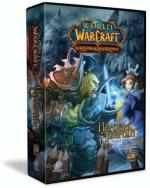 Balancing a Deck is hard work, and the choices are rough. Should you put more quests in your deck of 60 cards? Add a few more allies to the mix? Perhaps you feel like your deck is light on the weaponry, but then again will adding more weapons upset the balance of Ability cards?!
We've always wondered what the right mix of our World of Warcraft TCG cards should be, and if you're lazy like we are then you probably don't ever, ever, ever want to sit there and derived the the math behind the probability of drawing any card during a game. That would like, take two bar napkins and probably three scotches, and by then we'd be scribbling down names of our ex girlfriends instead of worrying about World of Warcraft TCG draws.
Thankfully the mathematician Doombringer over at Wowcards.org has written an article "Probability and the WoW TCG" for the masses of interested - but not die hard - World of Warcraft TCG players who want to tweak their deck for efficiency. We must warn you though, this article ranks a solid 8 / 10 on the scary math scale, and it gets a bit heavy at the end. Thankfully there's some great stuff to read early-on, before we start calculating the Gaussian surface of Elendril's left eyeball in section 2.11b.
Here's a snippet from "Probability and the WoW TCG":

"Now let's look at resources, specifically quests. Quests serve two purposes: to avoid using other valuable cards as resources, and to provide some additional firepower such as card draw. How many quests you need in your deck has been a subject of great discussion. Obviously weenie and low-resource cost decks don't need as much. Control and build decks may need more. You don't have to play a resource every turn, especially if you're short on cards in hand. But if you wanted to play a quest every turn through turn 10, how many would you need in your deck?"
Great question, and the article has some great answers. It explains how you can derive the average number of cards you'll draw in a 10 round game (given the cards of cards that you've added to your deck to let you draw more cards than usual) - and given that - your chances of drawing a particlar card in a game, or having a weapon in your hand on turn one, etc.
The article even explains how to use an Excel macro to quickly and easily calculate the probability that you'll draw a particular card on your first turn given the frequency of that card in your deck. Sweet stuff.
If you're scared of math then here's a quick tip to keep in mind while you're reading all of this. Given a 60 card deck, your chances of drawing a specific card is 1/60. The trick is, your chances of drawing a specific card after that is 1/59, because your original draw consumed 1 card from the deck of 60.
That's why these probabilities are so complicated, but getting your noggin around that one simple principal will help you with the entire article. Enjoy!
Similar World of Warcraft Trading Card Game links:

Critical Gamers Staff at
Permalink