Dragon Age RPG Set 2 Available from Green Ronin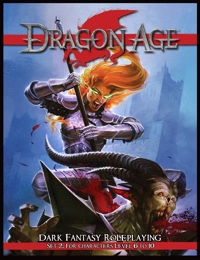 Don't be put off by this RPG series, even though it is based off a video game from giant developer Bioware, as it has been dubbed one of the best introduction RPGs in the last 30 years and was nominated for Best Game and Product of the Year in the 2010 ENnie Awards. Dragon Age Set 1 was released in 2009 and set players on their path from levels 1-5. Set 2 continues the players journeys and advances them from levels 6-10. It includes instructions for playing the legendary Grey Wardens, a new mechanic of roleplaying and exploration stunts, 40 new spells, additional world info and character backgrounds, and the expansion of specializations to include arcane warrior, berserker, and assassin.
Dragon Age Set 2 is currently available only as a pdf [Green Ronin | RPGNow.com] or can be pre-ordered as a box set which will include an 80-page Player's Guide and an 80-page Game Master's Guide, two different heavy reference cards (with multiple copies of each to share around the table), and a poster map of the world of Thedas [Amazon | Green Ronin].
Read More in: Gaming News | RPGs
Share this Article with others:

Related Articles:
Came straight to this page? Visit Critical Gamers for all the latest news.
Posted by Critical Gamers Staff at April 30, 2011 9:59 AM