In-depth Look at WoW TCG's Latest Raid - Assault on Icecrown Citadel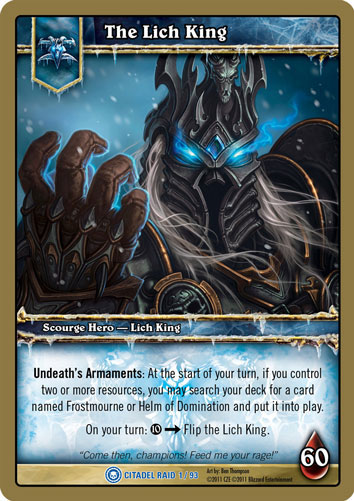 First thing, the Lich King looks badass. However, we expect nothing less from Blizzard. Secondly, it appears that there will be 93 cards in the raid. While not called out explicitly in the article, the writing is on the wall, so to speak, well on the card at least. We will have to see how that plays out. Third, if you check out the article, it appears that the Lich King will be the only Boss Hero in this raid. Those familiar with the MMO will be quick to point out that this is not the case in the 10 and 25 man versions of the raid. However, Drew Walker, Creative Content Lead for WoW TCG and Lead Designer for Assault on Icecrown Citadel, has pointed out that Lord Marrowgar, Blood-Queen Lana'thel, Lady Deathwhisper, and the other raid bosses will still exist in this raid. Just their purpose will change a bit. Instead of taking them on individually, the Lich King, will be able to summon them throughout the battle.
Fans of the Grand Alliance have not been left out of this raid either, you will be able to play Lady Jaina Proudmoore, Dark Lady Sylvanas Windrunner, and Highlord Tirion Fordring. Each of the three iconic heroes also have their own weapons, Staff of Antonidas, Deathwhisper, and Ashbringer, respectively. Also, each hero comes with their own 61-card tournament legal deck. So if you have friends that don't have their own full decks, this raid will provide them for you. You can also replace Tirion, Jaina, or Sylvanas with a tournament legal hero of your own and those same friends can use the decks in a tournament. Pretty sweet.
Check out the press release for more details.
At WoW TCG
Read More in: Card Games | Gaming News | RPGs | World of Warcraft TCG
Share this Article with others:

Related Articles:
Came straight to this page? Visit Critical Gamers for all the latest news.
Posted by Critical Gamers Staff at February 18, 2011 7:10 PM