Victory Point Games Releases Disaster on K2!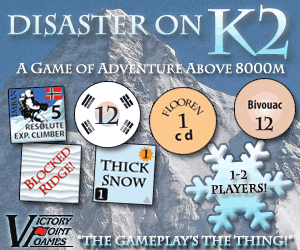 From Victory Point Games -
Adventure above 8000m!
From designer Tom Decker comes the next challenge - Climbing and conquering to survive the Disaster on K2! As an internationally renowned expedition leader, you are anxious to gain prestige by leading a group of high profile climbers from your country to the top of the most difficult peak in the world, K2. While some of the climbers have been selected for their climbing abilities, others have been assigned to your team for various political reasons.
Certainly if you can accomplish this feat, your name will go down as one of the greatest expedition leaders of all time and your fame and fortune will be assured.
Play solitaire or compete against another player to lead your climbers to the summit of K2 and back down safely. Or take on the challenge of climbing both Everest and K2 in the campaign game by adding VPG's Disaster on Everest.
Read More in: Board Games | Gaming News
Share this Article with others:

Related Articles:
Came straight to this page? Visit Critical Gamers for all the latest news.
Posted by Critical Gamers Staff at May 1, 2011 9:29 AM