Days of Wonder Announces Small World Underground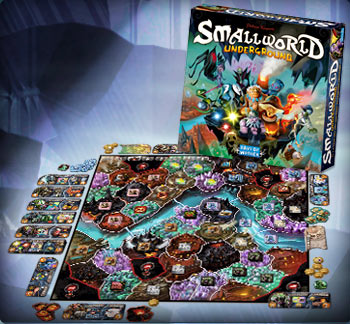 Well, would you look at that. If it wasn't about 3 hours after making my post about the possible upcoming Small World expansion that Days of Wonder announced Underground, a stand-alone addition to the lineup. Designed by original Small World author, Philippe Keyaerts, it boasts a slew of new races, featured in our previous post, new powers, and features neutral monsters that guard relics and occupy places of power on the board. If the name didn't give it away already, Underground will take players to subterranean locations with all new terrain types and geographical obstacles. The expansion can be played by itself or combined with the original game/expansions for greater depth and complexity. Look for Small World Underground in stores in July for North America and June for Europe and will retail for $50 or €45.
Read More in: Board Games | Gaming News
Share this Article with others:

Related Articles:
Came straight to this page? Visit Critical Gamers for all the latest news.
Posted by Critical Gamers Staff at April 28, 2011 9:02 PM