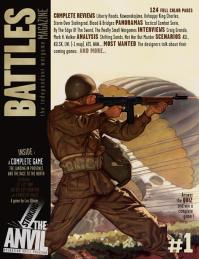 Alright Grognards, listen up. A new independent Wargame Magazine just made its presence on the net, and it's available for order before its official launch at the end of April. Battles Magazine is slated to deliver 124 color pages of wargame news, reviews, scenarios and interviews about three times a year.
Battles Magazine is a collaboration of war gamers seemingly from England and France who banded together to create a publication that ships worldwide. We should mention the cost of the issues are listed in Euros. If you order the first issue before April 20th then you can nab it for 20 Euros, instead of the standard 26 Euro cover price It's a bit of a hit on the wallet, but given the amount of the content in each, and the quality we see in the previews, it makes us feel it's gonna be worth the price of admission.
The premier release also includes a wargame "Striking the Anvil" about the liberation of southern France in 1944, complete with map, chits and rules. A Striking the Anvil plugin for Vassal is also slated for release, so you know these guys mean business. Additionally, the next 2 issues - slated for release in September and December - will also include a new games, too, including Rome v Gauls, and the Vietnam War battle of Hue.
Looks like great stuff. We wish the folks there the best of luck with their new enterprise.
Enjoy!

Critical Gamers Staff at
Permalink