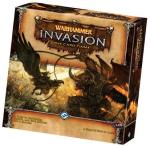 We played a lot of games this month. A real lot. Its like we're waking from our standard Thanksgiving Turkey Hangover but it's only November 1st. Scary.
We played new games we've thoroughly enjoyed, like both Warhammer Chaos in the Old World board game, and the Warhamer Invasion Living Card Game. We played old classics like Power Grid, Dominion, A Game of Thrones, and D&D;, and had a blast with all of them. Then we played the new Battlestar Galactica expansion Pegasus and left the table shrugging 'meh'.
Seriously though. So many games. So little time. If you pick up anything from this month, then we suggest Dominion Seaside, Warhammer Living Card Game, and Warhammer Mark of Chaos. Yes, two Warhammer titles. And we're not known to be Warhammer fans at all.
Here was all the news from last month:
Board Games
Card Games
Cheap Deals & Sales
Collectable Card Games
Gaming Culture
Gaming News
RPGs
Critical Gamers Staff at
Permalink