Philips 'Entertaible' Blows Our Minds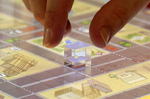 Philips just announced their 'Entertaible' at the Consumer Electronic Show in Las Vegas. Lay this 30" LCD screen down on a table and it becomes a digital game-board with "touch screen-based multi-object position detection, and all supporting control electronics." That's MIT-smart talk for playing games by pushin' cubes across a touch-screen.
It's only a working concept right now. Philips hopes polish the desing and sell these things to businesses for bar-games and the like. If successful, and once they get the cost down, 'Entertaible' will then move into the consumer electronics market. That means digital boardgaming in the comfort of your own home.
I can't tell you how excited we are about this. Think of it:
The ability to save your game at any time and finish it later.
Background animations. Unit animations. The board will become alive!
No stacked counters to accidentally push over, or for the cat to jump on, or for the dog to eat, or for earthquakes to shake, or for scarfs to come unhitched and wipe off the board. (Peter, we're looking at you)
Have all your boardgames with you, all the time, and in one box.
Networking over the Internet! This alone creates amazing potential. Play against friends who've moved across the country. Play in tournaments online. Massively Online Board Games! Oh my.
Download user generated content from strangers and from friends: New games, new variants, new art.
This device changes everything. Put us down for 12.
Read More in: Board Games | Gaming News
Share this Article with others:

Related Articles:
Came straight to this page? Visit Critical Gamers for all the latest news.
Posted by Critical Gamers Staff at January 5, 2006 12:02 PM