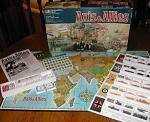 Up until now there really hasn't been a solid online offering to get our Axis and Allies groove going. Sure, there's been some clunky titles - including the extremely buggy original software release from Microprose, and the solid yet discontinued Iron Blitz Edition which sells for around $100 bucks a pop - but that requires a full blown application and all of your friends to shell-out cash, install the game, and email each other save games flies. It's not a very elegant solution: there's a ton of overhead involved, and it's not quite office-friendly.
And we won't even talk about the archaic play by email varieties from yesteryear - most of our friends aren't MIT computer science die hards.
Enter: GamesByEmail.com's latest release "W.W.II", a free web-based translation of the original Axis and Allies classic board game authored by the same group that Made Risk Fun Again a year ago. Sporting a slick interface and an automatic email notification system, "W.W.II" quickly became our biggest time-sink throughout the lazy weeks of this holiday season. It was especially nice while our group traveled to all four corners of the country. All we had to do is quickly kick-open a laptop, get online, and run through a turn with a few mouse clicks.
We've probably played through more Axis and Allies games in the last half month than we've played in our lifetimes prior, and we've seen all sorts of things: Japan has invaded the USA; Africa has turned into a naval factory for the Axis, and Russia has taken over the Pacific Rim territories down through Austria. We've even seen the goose stepping third Reich drinking whiskey in the Blue Ridge mountains of Tennessee
There's been no setup fuss, no shaking pieces, no Bavarian tidal waves from a knocked-over bottle of Harpoon IPA - none of the time sink that makes A&A; a chore. And the game has been extraordinarily stable since we've picked it up. Nice work to the guys at GamesByEmail.com.
We admit the interface is a tad bit confusing at first (yet it's the best we think it could be), so we'll offer you the following words of wisdom. Ignore them at your own risk:
Above all else, read the game's Frequently Asked Questions (there's a link to the FAQ on the main game page). Additionally:
The game uses a movement system that's a bit different from the normal thinking of board game movement. You click on a destination space to move to - not to move from. The game will then list which units you can legally move into that space, both during the combat and non-combat movement phases. It's a bit of a perception-shift at first, but it makes a ton more sense as anything else would be very cumbersome.
There's a phase after the Combat Phase for landing planes. We originally forgot about this and were confused as to why wouldn't start our non-combat move step.
To use transports: click on a sea zone that you're moving a ship to. The game will list the available ships that can move there, this is where you click the "load" button to put troops on the transport. Once that's settled: click on the space to offload troops to. Your loaded transport and it's cargo will be part of the list of valid moves.
We recommend selecting the "No First Turn Combat Moves for Russia" game option, as the game is seriously imbalanced otherwise.
And with that you're well on your way to become an A&A; master. So what are you waiting for? Email an old high school buddy and get your game on. Enjoy!
Critical Gamers Staff at
Permalink