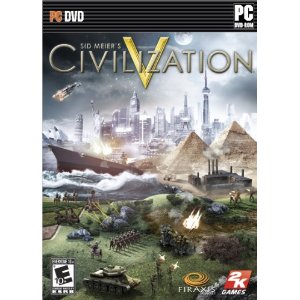 Oh sweet day of days Civilization 5 [Amazon] is out. Sure the line of Civilization games by Sid Meier aren't technically board games but the franchise lineage is everything a board game on PC should be, and more. Strategic depth, tactical combat, developing technology, disparate cultures, military and diplomacy engines, dynamic terrain environments, fog of war, random events, space races, atom bombs and green energy *gasp*... Civilization incorporates every cool facet of growing an empire from stone age to space age and animates it on your computermatrix.
And now a new Fifth Installment is here. Upgrades from the amazing 4th edition include a new graphics engine with varying tilesets based on different continents, a hex based map, combat with new tactical depth (no more unit stacking), new elements in the mechanics of culture and ethics, new AI and more intriguing options when it comes to diplomacy, city states, new tech trees.... oh man. The list goes on and on.
And you know whats even better? It's 5:00 which means it's officially quitting time. The night will be filled with Just-On-More-Turn-itis, and a pot of coffee is already brewing. See you tomorrow (maybe).
Here's a great Civilization 5 Video Review by GameTrailers. And, as always, here are the game's official details:
---

Sid Meier's Civilization® V is the fifth offering in the multi-award winning Civilization strategy game series featuring the famous "just one more turn" addictive gameplay that has made it one of the greatest game series of all time. Become Ruler of the World by establishing and leading a civilization from the dawn of man into the space age: Wage war, conduct diplomacy, discover new technologies, go head-to-head with some of history's greatest leaders and build the most powerful empire the world has ever known.

Successful diplomacy will depend on players carefully managing relationships with other leaders, trading items and land, plying them with gold, and deciding if they are friend or foe
Expanded visuals and immersive audio invite would-be kings to take up the reigns of power and forge a mighty empire. Civilization V offers a limitless variety of vast, realistic and diverse landscapes for players
An intuitive interface eases both new players and Civ veterans into the game. Guided by a set of trusted advisors who will explain game functionality and provide counsel for significant decisions
The addition of ranged bombardment allows players to fire weapons from behind the front lines, challenging players to develop clever new strategies to guarantee victory on the battlefield
Write your own epic story each time you play. Choose one of eighteen historical civilizations to lead from the stone-age to the space age on your quest to build the world's most powerful empire

---
Critical Gamers Staff at
Permalink