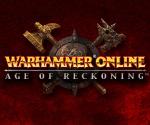 The gaming web magazine The Escapist has a good story regarding the history of the Warhammer Online franchise. It details who the major designers are, how their individual ducks fell into place, and the general outlook of where the design team aims to steer the Warhammer Online franchise. Here's a snip:
"The major challenge for a company taking something with a built-in audience and converting it to a videogame is deciding where to draw the line when it comes to strictly sticking to the existing property. I asked Paul for his thoughts on that, whether they are trying to get a complete, exact replication of the tabletop game, or if they are looking to capture the "spirit" of Warhammer itself. "[That question] has a very long answer that I really can't do justice to here. But if I had to try and explain it, I would say it's important to understand that we are not making a game based on the tabletop war game. We are taking the idea of Warhammer — the idea, concept, theories and feeling — and making the best Realm versus Realm MMOG we can." He adds, "Warhammer is Batman," meaning no matter what form Batman is in — be it comics, movies or LEGO — there is always a central theme, a sort of spirit of Batman's character running through it." -From "The Idea of Warhammer" on The Escapist
Well, here's hoping they don't insert any superfluous ice skating super villains, ala Joel Schumacher.
Warhammer Online is set to ship in the Fourth Quarter of 2007.
Critical Gamers Staff at
Permalink