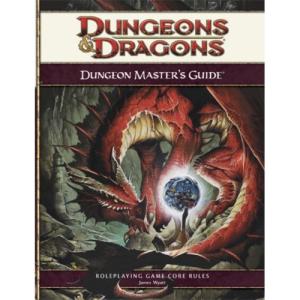 Its been two months since the release of D&D; 4th edition, and we're still finding the new game both approachable, and very deep, and we're just using a few of the core source materials.
Now, on the eve of the gaming conference GenCon, the website Gamers with Jobs has a fantastic interview with a round table of D&D; 4th Edition designers. They talk about the state of the game releases thus far, the momentum they've provided the design team on where t take things short term, and the long term plan for D&D; 4th Edition releases and their impact on the gameplay and D&D; settings.
If you're a D&D; 4th edition fan then the interview is entirely worth your time, but here are a few key points that really stood out for us:
---

@13:32: There will be a shift from releasing World Specific content - like Forgotten Realms - in a fleet of books as was done in the past. Instead, Wizards of the Coast will move to a model where a few core books are released and then supporting source material will continually be released in the D&D; Insider online materials (aka Dragon magazine). The goal is to open the key elements of each world in the books, and then fill in the rest in a manner that players can pick and chose their way to customizing their gameplay experience.
@22:41: D&D; Insider pricing model: There will still be a restructuring of the service, where you could get packages of the materials instead of a one-price-brings all pricing model. This will bring the price down for materials, but from what it sounds - you will need to get the whole Enchilada if you want to use the GameTable, and that's a shame, unless you can get a group rate on the table that's not outrageously expensive from month to month.
@29:17: A prelude of campaign releases to come, past this year's Forgotten Realms and next year's Eberron
@30:22: 'The Role Spiel' A length address to a somewhat controversial design decision of 4th edition to limit the number of class powers. This decision was made to make the game approachable and not overwhelm creation choices, and to protect new players from making gimpy characters who aren't fun to play.

---
Very interesting stuff. Have a good weekend!

Critical Gamers Staff at
Permalink