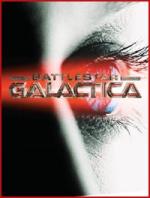 After the initial announcement from Margaret Weiss Productions of a Battlestar Galactica RPG on the horizon, there wasn't much news to be had anywhere. We were left hanging in the dark. The official Margaret Weiss website still has the same under construction page, the same number of products on their website, and no mention at all of the progress of the B-Star RPG. Odd. It was beginning to look like the title had become vaporware.
But GamingReport.com seems to have poked a hole through the media dam with news and details of the upcoming RPG rulebooks. Here's a snippet from their site:
"The full 224-page full-color Battlestar Galactica Role Playing Game Corebook won't be out until July 2007, but only Cylons haven't pre-ordered it already from their FLGS. The Corebook includes everything needed to create characters, all game rules, gear lists, ships, ship and chase mechanics, and sample characters, plus military jargon, procedures, and rank listings. It also includes complete deck plans for Galactica! $44.99"
More information can be found in the GR post "GTS Special: Dragonlance, Serenity, Battlestar Galactica, and more!" [link]
With the very long hiatus of the BS:G TV series (not until 2008 it seems), then the release of the RPG in July will be nice little treat to get us through this detox. It's already been hard enough and we're like only one month in. We're crossing our fingers our fingers in the hopes that we'll soon hear of an official website launch, too, but at this point we're not going to hold our breath - given the lack of online presence from Margaret Weiss productions that'd be suicide. We'll probably have to find a 3rd party community site from which to mine RPG materials. Hopefully MWP will put more effort into the product than their online presence.
We'll keep you posted as any more details are released.
Critical Gamers Staff at
Permalink