White Goblin Games Announces Six Titles for Release During Spiel 2011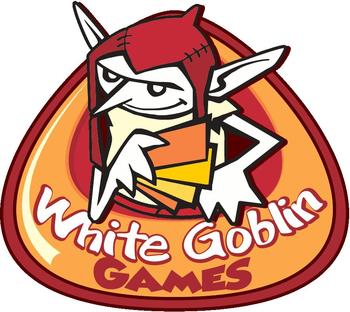 White Goblin Games has a significant lineup ready for release for Spiel '11 in Essen in October. From the official press release -
Rattus Africanus
First and foremost, there's a new Rattus expansion up for release! Rattus Africanus will mark the introduction of a caravan, as well as diplomats. This will add more strategic possibilities to the game and with the introduction of region cards, players will have more control on possible outbreaks of the Black Death. Rattus Africanus will make playing Rattus feel like a completely new experience! Besides that, this expansion also makes it possible to play the game with 5 and 6 players. Rattus, the basic game by Ase & Henrik Berg, has been a big hit internationally so far and by adding a whole new playing experience to the Rattus-family, the success of this game will become even bigger.

Lost Temple
Secondly, there's Lost Temple. In this game by Bruno Faidutti, 2 to 8 players are explorers looking for a mysterious lost temple. To find it, they must cross the jungle of southeast Asia and get help from the indigenous people. The first player to reach the temple on the last space of the track wins the game. The game uses a character selection rule similar to Bruno Faidutti's Citadels, and the game includes nine different characters: Shaman, Thief, Seer, Priest, Elder, Craftsman, Scout, Canoe and Child. Can you outwit your opponents and claim the discovery of the Lost Temple? This game will definitely attract all the fans of Citadels.

Revolver
And then there's Revolver. This is a non-collectable card game for 2 players by Mark Chaplin and the game is set in the Old West. Consisting of two balanced 62 card decks, the game pits two players against each other in a life or death struggle. One player takes the role of Colonel Ned McReady and his lawmen, and his opponent assumes control of the notorious and deadly Colty gang. At their disposal, the Colty gang - the meanest bunch of low down dirty dogs in the West - have a roster of weaponry to bring down the lawmen on their tail: .38 Specials, .45 Long Colts, 1866 double barrel Derringers, and even a Gatling gun! The Colonel player's objective is to eliminate all the gang members before they can escape across the Mexican border. The game has an asymmetrical design, with both decks featuring different cards and abilities. Primarily a combat-driven card game, each player must manage his deck of cards effectively to win. Revolver is played using a 5-column system, representing consecutive gunfights in the following battlegrounds: The Bank at Repentance Springs, Whiskey Canyon, Buzzard Point, Rattlesnake Creek, and the 3:15 Express from Rattlesnake Station. Gameplay is quick. Numerous tricky decisions must be made throughout.

Panic Station
Earlier this year, White Goblin Games released the crazy squirrel game Get Nuts by designers Tom Luyckx and David Ausloos. Also from Ausloos is Panic Station, a partly cooperative game for 4 to 6 players of growing paranoia in which no one can truly trust anyone. As a member of the Extermination Corps, you as well as your android are sent out by the government to investigate the presence of fiendish alien life forms in a base. Players need to move both their Androids and Troopers through this base, exploring and gathering equipment that will help them to complete their mission: to find and destroy the Parasite Hive hidden somewhere in the inner depths of this hell. When a player manages to get his Trooper into the Hive location and play three gas can cards to fuel his Flamethrower, he wins the game for the humans. However, one of the players is a Host. He must keep this identity secret, infecting as many team members as possible to gain allies and prevent the humans from completing their mission. Only players who carefully watch the behaviour of team members and find a good balance between cooperation and paranoia will stand a chance against the infected players and roaming parasites. The game uses a unique exponential traitor-system and combines tactical play with a compelling psychological mind game amongst players. Can you maintain your sanity and destroy the source of this evil?

Singapore
Singapore is a game by Peer Sylvester and in this game, the 3 to 4 players are rich merchants who are trading to develop a small outpost into a metropolis. Although the legal trade flourishes, the opium trade increases as well. In this game the players will have the opportunity to participate in these illegal, profitable activities. However, the risk of being caught increases as more illegal activities take place... In this game, you'll definitely experience the intense tension once you have opted for very profitable, but also illegal activities!

Dragon's Gold
Last but not least, there's a re-release of Bruno Faidutti's 'Dragon's Gold'. In this highly interactive game, you have to beat the dragons and seize the treasures. Each player plays with a team of heroes intent on only one goal: collecting lots of magical objects and treasures. Beating a dragon is quite simple. But then comes the real challenge: reaching an agreement on the distribution of the loot. This negotiation mechanism makes this game really stand out from the rest: players have to come to an agreement under time pressure. If they don't agree, nobody gets anything! Besides new artwork, there's also a more strategic variant for players who don't like negotiating.
Read More in: Board Games | Card Games | Gaming Culture | Gaming News
Share this Article with others:

Related Articles:
Came straight to this page? Visit Critical Gamers for all the latest news.
Posted by Critical Gamers Staff at July 20, 2011 10:26 PM