Memoir '44 Online Now Available as a Free Download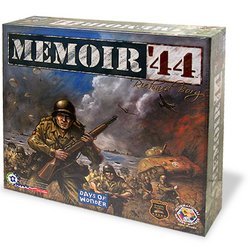 Days of Wonder has finally released their online version of Memoir '44 as a free download from their website. The game uses a pay-to-play model where users spend purchasable Gold Ingots to play matches against opponents. Days of Wonder does generously give players 50 Gold Ingots to start out with for free, which will account for "hours and hours of free play". The online game is very similar to the board game as it uses elements like cards, dice, and plastic models but expanding upon for online play and matchmaking. Also included is a ranking system that players can progress through and can be changed from an American ranking system to British, Russian, French, German, Japanese or Italian. In addition is a pretty extensive Achievements system that is posted on the site. If you have ever wanted to play Memoir '44, enjoy the board game and are looking for additional ways to play or more players to play with, or love wargaming in general, I highly suggest heading over to the Days of Wonder site and downloading the free client. See you online!
Read More in: Board Games | Gaming News
Share this Article with others:

Related Articles:
Came straight to this page? Visit Critical Gamers for all the latest news.
Posted by Critical Gamers Staff at July 5, 2011 11:39 PM