Arkham Horror: Miskatonic Horror Expansion Now Available in Stores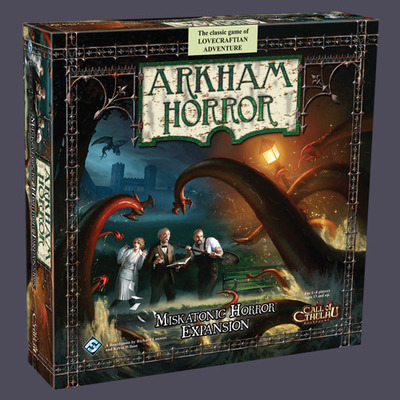 Arkham Horror is one of the most expanded upon titles with 13 expansions counting the investigator additions and revised addition to Curse of the Dark Pharaoh. Today marks the release of the 14th expansion, Miskatonic Horror. Miskatonic is not like the other expansions as it is essentially a supplement for all of the existing expansions. It contains nearly 450 new cards and several new sheets, including:



New Skill, Gate, and Mythos cards for the Arkham Horror base game


Additional Exhibit Item cards for Curse of the Dark Pharaoh


New Injury, Madness, Dunwich Location, and Dunwich Horror cards for Dunwich Horror, as well as an all new Dunwich Horror Herald sheet


More Blight and Act cards for The King in Yellow


New Kingsport Location, Epic Battle, Blessings of Noden, and Visions of Hypnos cards for Kingsport Horror


Over 20 new Cult Encounter cards for The Black Goat of the Woods


New Innsmouth Location and Innsmouth Look cards for Innsmouth Horror


Additional Relationship cards and Reckoning cards for Lurker at the Threshold


Plus new Player Reference sheets and a new Institution variant!


I am not sure that I agree with the way that Fantasy Flight Games has set this up. I do agree that they should expand the game without adding new areas and increasing the size of the board as they have previously; however, is it really fair to charge a player full price for a title that they can only get the full value out of if they own all of the prior expansions? Price per content value tells me that only the most hardcore Arkham Horror players will purchase this at full retail price. I am going to wait until I can get a used copy or it drops in price.
Read More in: Board Games | Gaming News
Share this Article with others:

Related Articles:
Came straight to this page? Visit Critical Gamers for all the latest news.
Posted by Critical Gamers Staff at July 6, 2011 10:15 PM