New WoW:TCG Expansion Announced Named Aftermath: Throne of the Tides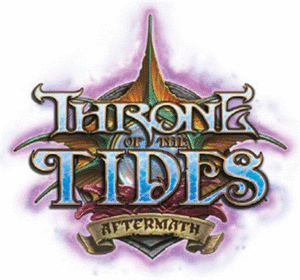 First seen at ICv2 - http://icv2.com/articles/news/20525.html
Cryptozoic has announced the latest in the massive lineup in the World of Warcraft trading card game aptly named Aftermath: Throne of the Tides. If you weren't quite sure based off the name of the expansion, I will be happy to report that the expansion will contain the ever loved and hated Murlocs. Players of the MMO will know what I mean when I say that I am glad these cards don't have sound effects and voice overs applied to them. In addition to the Murlocs, players can also expect Naga and Ogre heroes. The packs will come in the typical 36 pack booster box, 16 cards per pack, $3.99 USD per booster pack. Another option is the $34.99 MSRP priced Epic Collection. The collection contains a reusable card storage box with dividers, a playmat, deck box, six booster packs, 5 foil heroes, and the Fish in a Bubble common loot card. You also might be lucky enough to pull one of the other as well new loot cards:
Epic - Tallstrider Mount
Rare - Throwing Star Fish
Common - Fish in a Bubble
Players will also get to experience four new card mechanics:
Delve - Allows players to manipulate top of draw deck
Empower - Play allies of another class to gain access to that class's abilities
Enrage - Gives allies bonus attack and ferocity
Eternal - Abilities grow in power as the game goes on and shuffle themselves back into the deck each time they are played so one card can be used multiple times in a single game
And last but not least is Murloc Swarm. A card with Murloc Swarm gives itself and all other Murlocs +1/+1. So while not necessarily a huge threat in and by itself, get a swarm of these creatures together and the kiddie gloves come off. Expect the new expansion to be available early October.

Read More in: Collectable Card Games
Share this Article with others:

Related Articles:
Came straight to this page? Visit Critical Gamers for all the latest news.
Posted by Critical Gamers Staff at July 13, 2011 8:35 PM