Runewars Expansion Banners of War Announced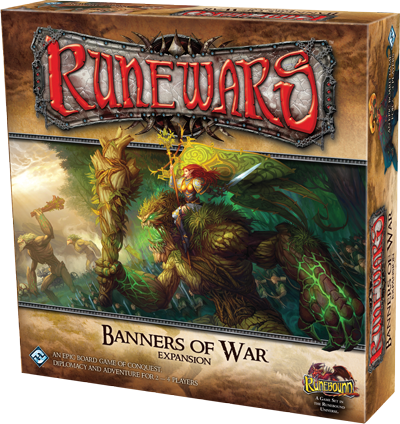 Fantasy Flight Games has announced that they will continue to support Runewars and in doing so have informed us of Banners of War, the latest expansion. Here is the official announcement from FFG -
War continues to ravage the continent of Terrinoth. The free cities change hands and tyrants bleed the land dry with a death toll that has not been seen since the great wars of ages past. Each nation knows it cannot slow the passage of time, or the armies of their enemies without help. Therefore, each nation has made pacts of allegiance with entities who, until now, have remained passive. The once dormant Great Wyrms flap their long dead wings on blackened skies, while the ancients of the forest march forward against battalions of Novice Wizards who can finally practice their arts in the open, under political jurisdiction. They will be needed if the Sisters of Blood, who now march out from their mysterious Convent of Blood are to be defeated.
Fantasy Flight Games is thrilled to announce the upcoming release of Banners of War, an expansion for Runewars! With over 50 new figures and hundreds of new cards and tokens, Banners of War builds on the strategy and diplomacy of the war for the dragon runes.
n Banners of War, players take fate into their own hands by adding new units to their armies, conscripting heroes to lead them, employing new tactics against their foes, and seeking out a legendary Lost City that promises untold treasure to the ruler who takes control of it. The way shall not be easy, however. It will take keen leadership and tactics to best the rival armies. They too are raising their banners to prepare the march, ready to meet your legions head on.
Mighty Rocs and ambitious Novice Wizards join the ranks of the Daqan Lords, while the Latari have formed a pact with ancient forest spirits, enlisting the aid of the mighty Leonx...and even the trees themselves. Meanwhile, the Uthuk sink ever deeper into corruption; covens of blood witches call upon ancient evils, including demons of gluttony with an insatiable appetite for suffering. And the lands of the Great Betrayer bear witness to further sacrilege: the Vampires of Bilehall have allied themselves with Waiqar, and the massive Great Wyrms, long-dead relics of the Dragon Wars, are rising again!

Read More in: Board Games | Gaming News
Share this Article with others:

Related Articles:
Came straight to this page? Visit Critical Gamers for all the latest news.
Posted by Critical Gamers Staff at July 16, 2011 6:30 PM