The Hunt for Gollum Ships This Week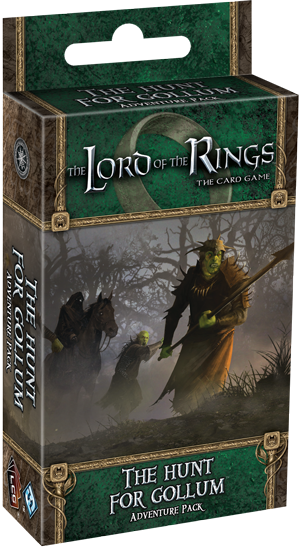 The Hunt for Gollum, the highly anticipated first content pack to the living card game, The Lord of the Rings: The Card Game, is set to be shipped off to retailers this week. Expect the first adventure pack to become available July 22nd. From the Fantasy Flight press release -
The Hunt for Gollum sets heroes on their way into the Shadows of Mirkwood, the first series of Adventure Packs. Gandalf requests the assistance of heroes to search for the elusive creature known as Gollum. The search begins in the Anduin Valley between Mirkwood Forest and the Misty Mountains. The Hunt for Gollum relates the first of six chapters in a sweeping narrative arc.
To complete the Adventure Pack's new Quest, heroes must find clues to put them on Gollum's trail. It is not an easy task, though, as the search leads your heroes to dangerous new locations where they will engage powerful enemies. Your heroes also run the risk of finding false clues, and if they follow bad leads, they may tire as the threat grows and lose Gollum's trail entirely.
Read More in: Card Games | Gaming News
Share this Article with others:

Related Articles:
Came straight to this page? Visit Critical Gamers for all the latest news.
Posted by Critical Gamers Staff at July 12, 2011 10:02 PM