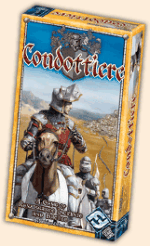 In our humblest of opinions, the game of Poker requires money to be fun. Without stakes, and the ebb and flow of pots, what element of Poker acts as the glue that lends a story to the night's series of hands? Absolutely nothing, that's what. Plus, in the world of modern family games, you wouldn't want to take a step backwards and play a gambling game with your kids, would you?
There have been a few card games over the years that have tried to create a meaningful setting around the Poker style of play. These games usually remove the morally confusing elements of betting in the process, which makes them family safe. We're talking about Collectible Card GAmes, either. We're talking about cards games that involve the standard circle of friends, gabbing some beers (or soda with the kids), sitting down, and bluffing your way to victory. Havoc: The Hundred Years War immediately comes to mind, as that seems to be the most recent popular title to meld together Poker with modern gaming elements.
But around the same time that Havoc was released, there was a similar title called Condottiere [Funagain], which was a winner of the 1994 Concours International de Créateurs de Jeux de Société (that's French for "good") award, thing. And now publisher Fantasy Flight Games has picked up the rights to print the 3rd edition, and they've just launched their official website showcasing their latest face lift of the game.
The Condottiere series is centered around the warfare of the various city states in Renaissance Italy. The term Condottiere stems from the mercenary army commanders of the time period, employed by the various city states to act as their hand in the field of battle. The new edition sports new art work, and new game elements and card types, but we're not yet sure of any of the specifics. Still - even if the changes are minor tweaks those who are new to the game will find plenty of good stuff to be had (if it's new to you!).
Players of Condottierre will immediately find similarities to Havoc: The Hundred Years War, but under closer inspection tthey'll find even more things different. In Havoc players partake on a series of pokeresque rounds of play. Each round represents one battle, and players aim to take a series of battles of to collect the most victory points in order to win the entire war. Condottiere swaps out the victory point structure for a meta map depicting the regions of Italy as they existed during the Renaissance. Whoever wins a round takes a territory, but also becomes the Condottiere who chooses the next region to fight over. The winner is the player who can connect 3 territories in a row.
We know this sounds stupid, but: we seriously like meta maps. Like a kid drooling over an oversized lollipop, we stare at meta maps with widened eyes. And the great thing about this one, it's in game where you wouldn't expect it to otherwise appear. What else brings meaning to a series of poker hands? How about a territorial map with Italian city states carved into it waiting to be conquered?. Heck yeah. That'll do.


Continue reading:
"Condottiere 3rd Edition Website Launches"
Critical Gamers Staff at
Permalink