Thunderstone Wrath of Elements Expansion is Finally Out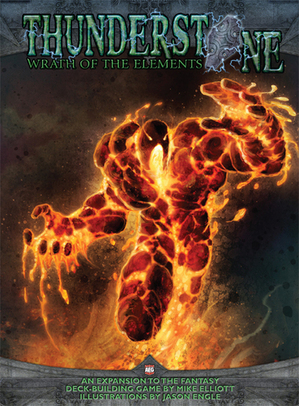 The time is finally here. After delays, delays, delays, the first expansion to the deck building game success Thunderstone has hit shelves. Wrath of the Elements [Amazon, Funagain] adds new cards to every facet of the game, from weapons, heroes, items, and monsters. There's even a replacement to the Thunderstone.. though that aspect of it is slightly underwhelming.
Now, we've said it before and we'll say it again: Dominion remains seated at the throne of the deck building genre. While Thunderstone did some interesting things in it's gameplay formula to take the genre one step further (mainly in the player's dual focus of economy and monster slaying), the original Thunderstone stand alone didn't have enough interesting card combinations in it's implementation to entertain us enough to overthrow the king Dominion.
Now it's time for Wrath of the Elements to prove that Thunderstone has staying power and we're stoked to find out if it can get the series kicking butt and taking names.
Here's the official description:
---

Thunderstone returns with all new monsters heroes equipment and now? traps! Thunderstone brought dungeon crawling to the deck-building game genre and Wrath of the Elements takes Thunderstone to a new level. With four new heroes six new monsters and many new village cards Wrath of the Elements can be stand alone or mixed in with classic Thunderstone for a larger experience. Wrath of the Elements also introduces Traps. This new card type creates perlious dangers for your adventuring party when revealed from the Dungeon Deck. Can you overcome the new monstrosities and claim the Thunderstone?

Wrath of the Elements also features an attractive and durable card box large enough to hold both Wrath of the Elements and classic Thunderstone and is even more compact and easy to transport! The box also comes with all new labelled card-type dividers for both the new cards and classic Thunderstone cards. Jason Engle returns again with more amazing art as well

---
Thunderstone: Wrath of the Elements is now shipping from Amazon and Funagain Games.
Read More in: Card Games | Gaming News
Share this Article with others:

Related Articles:
Came straight to this page? Visit Critical Gamers for all the latest news.
Posted by Critical Gamers Staff at August 23, 2010 4:10 PM