Cadwallon: City of Thieves Unveiled at Gencon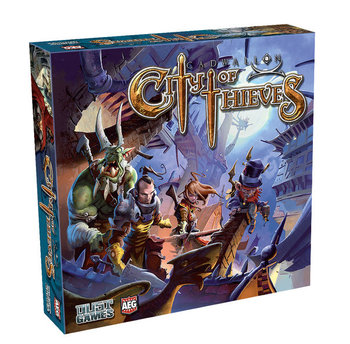 We love to backstab each other -- we grew up playing Diplomacy after all. So we got excited when we heard that Cadwallon: City of Thieves is cast as a tactical board game of thievery, dynamic quests, scenarios, backstabbing, and backstabbing (two daggers just to be sure). A game like this fits the dynamic of our group perfectly.
Players compete to haul in the most loot stolen throughout the city, and are given four thugs to scour the city scape. Monies could be collected by looting the houses of Cadwallon, by fulfilling random quests decreed by the local thieving guild, or by pouncing on your opponents who've done all the hard work for you. Players have a tastey amount of strategic choices in each game, being able to tackle the ultimate goal in numerous ways, while toying with the tactical execution of their four servants in the field. Action points are shared amongst your pawns, which can be spent on movement, picking locks, trashing doors, grabbing loot, etc.
Picking a successful strategy, implementing it at the tactical level, and avoiding your foes attempting to achieve their own goals while undermining yours .. sounds like the perfect game.
We'll let you know more about when this exciting game is slated to hit shelves. For more information check out the Cadwallon: City of Theives website.

Here are the official details:
---

Cadwallon: City of Thieves is a fast-paced game of cunning thievery and ruthless skullduggery in a fantasy city steeped in magic and intrigue. Two to four players each control their own gang of four thieves, competing to amass the greatest haul of loot from the many carefully locked chests scattered about the board. This is no friendly competition, however, and there is little loyalty among thieves in Cadwallon! The most successful players are as likely to claim their loot from the other gangs as they are to do the time-consuming legwork themselves. And always there is the Guild, directing the gangs from the shadows, and offering rich rewards to those who follow its will. But there is little time to waste; even the slow-witted militiamen will eventually raise the alarm... and woe be upon any thief who fails to creep away before the lawmen seal the district!

---
Read More in: Board Games | Gaming News
Share this Article with others:

Related Articles:
Came straight to this page? Visit Critical Gamers for all the latest news.
Posted by Critical Gamers Staff at August 18, 2010 3:29 PM