Axis & Allies Europe 1940 Board Game Hits Shelves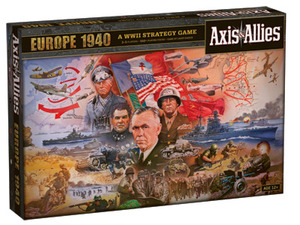 Sweet day in the morning. Axis & Allies Europe 1940 [Amazon, Funagain] is out. This is huge. We love the latest and greatest A&A; games. Sure some of the components have sucked it up (getting rid of money, really?) but the maps, the units, the sheer scope have only gotten bigger.
Now we're diving down to zoom in on the multinational European Front. Tanks, massive amounts of infantry, an African side show, strategic bombings, full on amphibious invasions, the works.
And of course the main event. You can ( and we immediately will ) combine last year's A&A; Pacific 1940 with the new Axis & Allies Europe 1940 to make the largest, most involved, and most intricate A&A; game yet. Even bigger that the Monolithic Behemoth that is the Axis & Allies Anniversary Edition. So if you missed out on that limited run release, then just scoff off a laugh and pickup these baddies.
For more information on A&A; Europe 1940, checkout our previous coverage:

Here's the official line
---

"With the invasion of the Low Countries and the allied evacuation from Dunkirk, the German army is poised to march on Paris. Axis & Allies Europe 1940, designed and developed by Larry Harris, builds on the success of the acclaimed A&A; Anniversary Edition. France appears for the first time in Axis & Allies and will represent a new playable ally! Italy will be included as a second Axis power along with Germany. The UK, USSR and the US find themselves vulnerable at this early and uncertain point of the war. Two new combat units that debuted in Axis & Allies Pacific 1940, Tactical Bombers and Mechanized Infantry, will also appear in this game.

Axis & Allies Europe 1940 features an oversized board that measures 35" wide by 32" high. With over 550 combat units, deluxe game components and local storage boxes, this game will raise the standard established by A&A; Anniversary Edition. All new rules for neutral nations, naval & air bases, and convoy disruption will add even more depth and historical accuracy to this giant game.

Finally, this deluxe theater-level game is designed to play together with Axis & Allies Pacific 1940. Together these two games will create the greatest Axis & Allies experience to date, with a combined board measuring 5' wide by 32" high and over a thousand sculptured combat units. Both games are designed to play alone or together to offer the 2-6 player global 1940 scenario, complete with weapons development, and national objectives.

"

---
Axis & Allies Europe 1940 is now shipping from Amazon and Funagain Games.
Read More in: Board Games | Gaming News
Share this Article with others:

Related Articles:
Came straight to this page? Visit Critical Gamers for all the latest news.
Posted by Critical Gamers Staff at August 26, 2010 5:09 PM