Space Hulk Death Angel the Card Game Up and Coming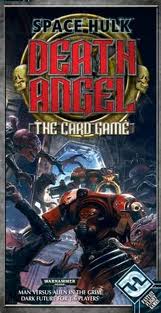 Cooperative games are all the rage these days. So are card games in a box. And now with the latest Space Hulk board game, and the release of Starcraft II, nothing says loving like a mechanized space marine pumping ravenous aliens full of lead until their primordial goo.
Space Hulk Death Angel looks to be a mix of all these things. The game supports 1-6 players in a difficult ballet of cooperation, and the threat assessment. Players will have to chose between either shooting down hordes of vicious aliens, supporting their allies or moving closer to the final exit of the game. Action cards for these options are selected and placed face down, and the resolved all at once. Choices made on one turn may not be selected for the immediate subsequent around, so choice wisely.
The actual baddies, the Genestealers, are controlled by a deck of cards instead of a player fulfilling the role of the antagonist. While this may make them slightly unguided in some facets, it also allows everyone to be on the same side. If the team loses then there isn't a gloating dork with Brain 1 sitting in the corner; you can only take the anger out on yourself. We like that.
Like the recently released Space Hulk board game the new Death Angel Card Game sounds amazingly simple to play, and from what we've heard, a damn hard experience to win. All this cooperation against the face of adversity is brought to you by designer Corey Konieczka who hammered out one of our favorite cooperative games ever: Batltestar Galactica. The theme, the mechanics, the ability to support up to 6 players, and all for 25 bucks makes this upcoming game shine bright solid gold on our radar. Too many other titles top out at 4 seats these days and for 60 bucks. It's an annoying trend we wish would cease immediately.
For more information about this upcoming release, check out the following FFG preview articles:
And here's the official description:
---

"Players choose from six different combat teams, each consisting of two Space Marines with different abilities. Each player receives three Action cards for each of his combat teams. After all of the Space Marines have fallen into formation, prepare for the first wave of Genestealers!

Action resolution keeps all players involved while the overwhelming odds inspire them to work together to survive. The Action Resolution Phase consists of each player revealing and carrying out their chosen Action. The lowest number card goes first, which means Attacks are resolved after Supports. Support tokens enable Space Marines to reroll, so make sure to cover your fellow Blood Angels!

The Genestealer Attack Phase happens after all the Actions have been resolved, so hopefully you thinned out the swarms since you have to roll higher than the number of Genestealers in the swarm to successfully defend. Finally, an Event card is drawn to spawn more alien adversaries. Once all the Genestealers have emerged from the darkness, its time to move forward, drawing a new location card. And then it's back into the fight!"

---
We'll let you know as soon as this puppy starts appearing on shelves.
Read More in: Board Games | Card Games | Gaming News
Share this Article with others:

Related Articles:
Came straight to this page? Visit Critical Gamers for all the latest news.
Posted by Critical Gamers Staff at August 30, 2010 5:00 PM