Z-Man Games Newsletter Issue 29 Available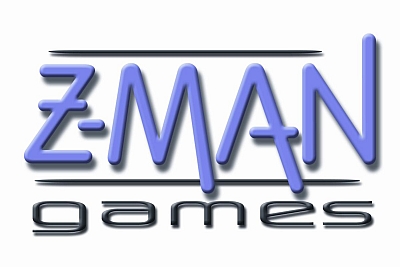 The latest issue of the Z-Man Games newsletter has been released and can be found on their website (Z-Man Games). The newsletter gives us insight into three of their upcoming titles: Mondo, Palenque, and Guards! Guards! which is a game based off Sir Terry Pratchett's Discworld novels. Read on for more information about these great upcoming titles!

Mondo is a real-time puzzle building game designed by Michael Schacht, and can be played by between 1 and 4 players. On each turn players use one hand to draw tiles from a central pile and place them, either side up, on their world board. Each tile drawn and played, must be placed against a tile already in place on the board. Players will be scoring points for creating mistake free landscapes - so a forest will score points only if it is fully enclosed and doesn't include any mistakes. Players also score points for animals present on the board, and for the order in which they opt out of a turn. Players also need to be mindful of the ways in which they can lose points: any landscape tile placed that doesn't match up with those next to it will score minus 1 point, and the player with the most active volcanoes will also score minus points! After three turns the game is finished and the player with the highest points wins the day.
Mondo includes three different levels of play, the advanced game adds in scoring modifiers - allowing things like: the player with the most landscapes scores bonus points, the player with the largest lake scores bonus points and so on. The expert game adds another layer of difficulty with the addition of 'tasks' which a player may take. Tasks provide bonus points if their condition is satisfied at the end of a turn.
The real-time aspect of the game adds tension, as a timer will be ticking down on each turn. Players must be mindful of filling out their board, scoring as many points as they can through landscapes created and animals placed, be wary of not scoring too many negative points, but must also remember that the earlier they opt out of a turn the more points they will score for that as well. With each difficulty level the time allotted grows ever smaller. Mondo is easily modified to create an easier or harder game experience. It also includes rules for a solo game.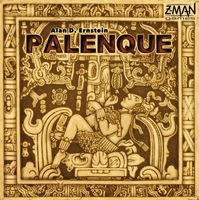 Palenque is a unique area control game for 2-6 players, designed
by Alan Ernstein, that plays in around one hour. Palenque is a highly interactive area control game, players are vying to score the most points for the various kingdoms on the board, but may use actions to swap their own or other players' control markers around, and even to alter the borders of the kingdoms themselves.
Each turn a player will draw a card, and then play a card from their hand. They may then use Action Points to perform actions. Actions can be to place markers down in areas that match the card they have played, to swap players' pieces around, to change the borders of the kingdoms, and to place temples on the board.
Temples can be very powerful pieces when used at the right times, as they can secure an important border, but can, to some extent, also be exploited by a wily opponent. Consideration of when are where to place markers given the cards you hold and the state of play, when and where to push kingdom borders, and when to place vital temple pieces are all important choices. There are four or five scoring rounds over the course of a game, and the player who best manages to manipulate the board and other players the best, will be the one of wins the game.

Guards! Guards! A Discworld Boardgame is for 2 to 6 players; designed by Leonard Boyd and David Brashaw, it can be played in around 2 hours.
The Discworld is the setting for a large collection of books written by author Terry Pratchett. His books have won many awards and sold many millions of copies. Guards! Guards! is a game that seeks to draw the players into the seedy and varied streets of Ankh Morpork, the Discworld's "oldest and greatest and grubbiest of cities". The many types of volunteers, items, spells and the way players interact throughout the game are all elements that create an atmosphere soaked in the muddy waters of the setting. Guards! Guards! Is not just a game for fans of Terry Pratchett's books however, it is an enjoyable, chaotic and interactive game with plenty of opportunities for clever plans, bitter reversals of luck, and miraculous comebacks.
Eight Great Spells have been stolen from the hallowed halls of the Unseen University. The players, dauntless members of Commander Vimes' famous City Watch, infiltrate the guilds of Ankh Morpork in the hope of finding support in the quest to return the spells to the Unseen University before disaster befalls the Discworld. In so doing they will need to recruit help from the lowest to the highest ranks of Ankh Morporkian society, from the gilt-ridden nobility to those lacking any sense of gilt.
Players will compete to the be the first to return their 5 assigned Great Spells to the Unseen University. To do so they will need to charm or bribe volunteers to help them, as well as make use of spells, curses, magic items and other odds and sods. While running around the streets of Ankh Morpork they must also beware of other players, as Saboteurs, Great Dragons, the Luggage (of course) and many varied other things can wreak havoc on even the best laid plans.
On their turn a player will move, may take actions such as buying scrolls, equipment, bribing or charming a volunteer, collecting money, going to the hospital to be cured and many more, and then resolve any special effects. At times players will want to co-operate with one another, and at other times they will be doing their utmost to foil, trip, harangue or otherwise confabulate each others' plans.
The player who manages to successfully return their assigned Great Spells to the Unseen University will be regarded a hero of Ankh Morpork!
Read More in: Board Games | Card Games | Gaming News
Share this Article with others:

Related Articles:
Came straight to this page? Visit Critical Gamers for all the latest news.
Posted by Critical Gamers Staff at May 3, 2011 8:07 PM