Classic States of Siege(TM) Bundle Sale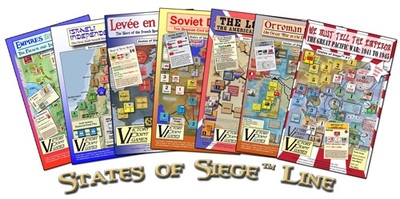 Victory Point Games (VPG) is offering a States of Siege bundle that contains 3 of their classic games and an expansion for each. The bundle includes Israeli Independence, Soviet Dawn, and Levée en Masse (English) along with their respective expansions. This is a fantastic bundle for history, solitaire, or wargaming buffs. VPG has taken 3 of their most successful solitaire titles and put them in one sweet package and at a sweet price. Head over to the VPG website for more information and to place an order on this great deal before it's too late!
Read More in: Board Games | Cheap Deals & Sales
Share this Article with others:

Related Articles:
Came straight to this page? Visit Critical Gamers for all the latest news.
Posted by Critical Gamers Staff at May 5, 2011 8:03 PM