WoW TCG Coma Watch: Reassurances Round 2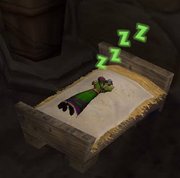 Blzzard has chimed-in for the first time since the forum move from Upper Deck, after it news was released that Upper Deck will no longer be handling the WoW TCG franchise.
Unfortunately instead of opening up the balcony doors and addressing the public en masse about the franchise's direction, and inspiring confidence, we instead get an presidential aide telling us all to stay calm:
---

"We wanted to take a minute and provide an update on the current status of this game. We want to reassure players that the TCG will continue, and look forward to releasing the Wrathgate and Icecrown expansions this spring and summer. The new plans are being finalized and there should be a full announcement by this weekend."

--Blizzard

---
The statement then goes on to say that the Realm Championships scheduled for this weekend are still a 'go'. Any news in particular about the newest publisher of the franchise will be most welcome this weekend, too. We'll keep you posted.

Read More in: Gaming News | World of Warcraft TCG
Share this Article with others:

Related Articles:
Came straight to this page? Visit Critical Gamers for all the latest news.
Posted by Critical Gamers Staff at March 19, 2010 1:32 PM