Ascension: Return of the Fallen to be Released at Origins Game Fair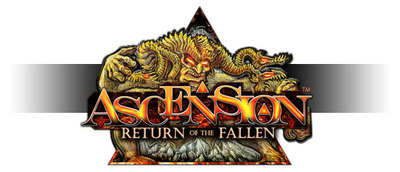 Gary Games will be attending Origins Game Fair in Columbus, Ohio, this week and they will be bringing with them the next offering. Titled Ascension: Return of the Fallen, the game will be the first expansion in their highly successful Ascension: Chronicle of the Godslayer line. RotF is designed to be a 2 player standalone game or to expand the base game for up to 6 players. The game will be available at the convention on June 24th or on their website on the 29th for 29.99 USD which will include 120 cards (65 all new center cards), 30 deluxe honor tokens, a storage tray, and instruction booklet. Also according to the release announcement from Gary Games, the expansion release should follow the release of the iOS versions (iPad, iPhone, iPod Touch), so expect those to be available in the next few days as well. Return of the Fallen should also find it's way onto the Apple platform sometime later this year.
At Ascension: Return of the Fallen
Read More in: Card Games | Gaming News
Share this Article with others:

Related Articles:
Came straight to this page? Visit Critical Gamers for all the latest news.
Posted by Critical Gamers Staff at June 21, 2011 7:00 PM