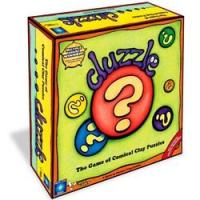 Those of you who don't know Cluzzle [Amazon, Funagain], picture it as 21 Questions meets the sculpting phase of Cranium, and you got it pretty much nailed spot-on in your brain. But then there's a somewhat more intriguing twist, Players win points for sculpting objects that take the most attempts to guess. This means players try to sculpt somewhat close to reality, but not make an artistic masterpiece. For instance, if you're sculpting a turtle that looks just like the spitting image of a turtle, and someone guesses it straight away, then you win but you only win a crusty highly oxidized penny.
And if nobody can determine your abstract mashy lump of clay is supposed to be a water borne reptilian, well then you don't get any points at all.
On the other side of the fence are the guessers. The fun trick here is that players will try to phrase their question in such a way as to not lead-on the rest of the players, so that they might use your guess as a clue of their own. Sure, it's nothing buried crazy-deep in the index of the player's guide to game theory, but it's still fun to try to twist your words in a fast social game like this one.
There is one catch though, and it's why we're writing about this game now instead of say.. in 2007. Due to packaging concerns, or cheap materials, or severe draught , the clay that ships in most editions of Cluzzle is usually hard enough to flog a titanium mule. To alleviate this problem, Funagain Games is shipping copies of Cluzzle with side kits of different colored Playdoh packs, which is always top notch fresh and ready for the sculpting. And at no extra charge to boot!
Here's Cluzzle's official details:
---

"Cluzzle is a fun-filled game that combines creativity, communication, strategy, and self-expression. In Cluzzle, players outwit their opponents through obscure sculptures, tricky questions, and insightful guessing.

The game has two fun phases: sculpting and guessing. In the first phase, every player creates a Cluzzle, a clay puzzle, from one of the subjects on a random game card. Then comes the guessing. There are three rounds in which players ask yes/no questions to figure out what you have created.

A good Cluzzle is one that cannot be solved until several yes/no questions have been asked. In fact, you get more points the longer it takes others to figure out your sculpture. So why not make a horribly unrecognizable blob? The kicker is that if your Cluzzle is not correctly guessed by the end of the game, then you'll receive zero points for it! A perfect Cluzzle is one that is not immediately recognizable but also not too obscure.

Cluzzle is a fast-paced game filled with laughter and incredulous eye-rolls as players fumble their way to deciphering your clay puzzle!"

---
Critical Gamers Staff at
Permalink