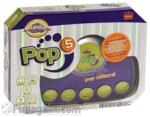 Cranium, Inc, creators and publishers of the hit party game Cranium, have released their latest gaming creation onto the world. Pop5 [Amazon,Funagain] is a party game that includes the fun activities of acting, drawing, humming, and sculpting, but with a twist that seems to nicely differentiate the game from its older brother Cranium [Amazon,Funagain].
Each turn the opposing team looks at the one clue on the drawn card, and assigns points - ranging from one point to five - to each of the five activities. Some things might be hard to draw with a pencil, while others might be difficult to hum, etc. Based upon the point assignments it's up to the current team to decide if they want t go for big points inspite of the potentially difficult task, or play it safe and try for the easier, yet less rewarding way to solve the clue.
We have played Cranium a bunch, and after a few parties it became apparently that certain categories contain questions that far easier than others. A true/false Datahead question is at least a 50/50 shot, for instance, while sculpting a glob of clay into a visible resemblance of Michael J Fox is.. uh, not. Looks like Pop 5 avoids these inconsistencies by providing a customized weighting mechanic, and on a question-to-question basis to boot. Good stuff!
The Company Line:

Guess and perform hilarious pop culture clues
Opponents rank activity difficulty each roundFun pop culture theme makes it a party must
Reminisce, laugh out loud, and compete
Everyone plays every turn, for maximum fun

Hilarious pop culture fun gets a Cranium spin! From Madonna and mullets to moonwalks and Monday Night Football, this party game isn't about what you know, but how you show it.

Here's how it works: Each turn, the opposing team draws a clue card and assigns points to each of the five activity choices, according to how hard they think each one will be. If they pull the "Red Bull" card, they may think drawing it is easy, so they'd give it one point. But acting? Hard. Five points! Now it's up to you to decide: Will you go for the easy points and draw, or go for the big points (and glory) by acting it out?

Each turn you get to choose to act, draw, hum, sculpt, or use letter cubes to get your team to guess the clue. With songs, celebrities, fads, fashions, TV shows, movies, and more, Pop 5 cards include all kinds of fun pop culture clues that span the decades -- and every turn, you get to choose how to get your team to guess!

Would you act out Iron Chef or draw it?
Would you rather hum a Spice Girls song or roll the letter cubes to give clues that start with the letters that come up?
Would you choose to sculpt a Chia Pet out of clay or hum the jingle?
Pop 5 is now
shipping from Amazon
and
Funagain Games
.
Critical Gamers Staff at
Permalink