Victory Point Games Latest Offering Available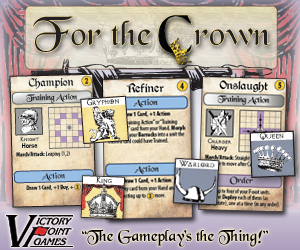 There is no question about it, the deck building genre is very hot right now, so it comes to no surprise that even Victory Point Games is trying to get in on the action. However, it should also come as no surprise that they are immediately trying to break the mold as VPG is known for taking risks and thinking outside the box. For the Crown is their third installment of the Casual Cards line, but the first in the deck building category. The difference is that they have mixed it with Chess-like gameplay. Victory will require planning, strategy, militaristic maneuvers, and tactics. Not only is it their most recent release, it's also $5 USD off right now.
Read More in: Board Games | Card Games | Gaming News
Share this Article with others:

Related Articles:
Came straight to this page? Visit Critical Gamers for all the latest news.
Posted by Critical Gamers Staff at June 24, 2011 8:19 PM