2nd Expansion for Nightfall Coming in October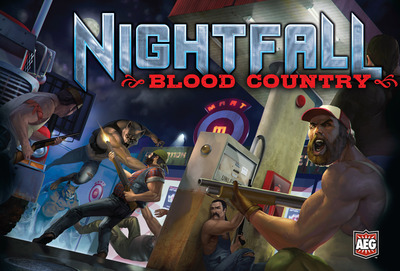 Can't say I am very surprised about this announcement considering the success of Nightfall and the reception to Martial Law, the first expansion. Alderac Entertainment Group is not stopping this train any time soon and I can't say I blame them. Here is the official announcement -
Cities have fallen, cities have stood, but outside of those protections, humans must face the creatures of darkness on their own terms. In the lawless countryside of Nightfall, the beast within can wreak havoc like never before.
Nightfall: Blood Country is a stand-alone expansion to the competitive deck building game Nightfall. Blood Country brings you a complete all-new set of cards with special powers, and features new vampires, werewolves, hunters and ghouls. Blood Country also introduces innovative uses for your wounds, creating new effects beyond those just on the card!
All new cards for Nightfall
Innovative new card effects change the game like never before
Fully compatible with existing Nightfall sets
Amazing art shows more of the world of Nightfall
Read More in: Card Games | Gaming News
Share this Article with others:

Related Articles:
Came straight to this page? Visit Critical Gamers for all the latest news.
Posted by Critical Gamers Staff at June 25, 2011 11:00 AM