Ascension Deck Building Card Game is Now Shipping!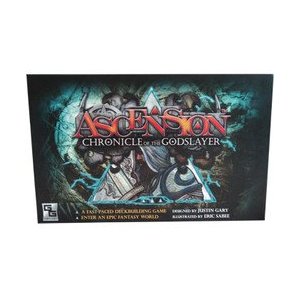 When it comes to deck building games then you're got two mainstay choices: Dominion and Thunderstone. Both have the perks, both have their drawbacks. Ascension Chronicle of the Godslayer hopes to bring enough new things to the table that it'll be the next deck building card game of choice.
So what's does Ascension address? Easier setup, a dynamic tableau of cards to purchase and monsters to attack, permanent cards that sit out to give you constant buffs, and a fantasy theme and gameplay designed by Magic the Gathering tournament players. Don't let that last bit scare you -- the game is quick to learn and start playing.
The main deck that serves up the items you buy or monsters you kill has 100 different cards types (redundant cards bring the deck up to 200 cards). There are multiple avenue's to 'score points' so players can focus on different overall strategies like killing beasties, beefing their economy, etc. Therefore while players are in pitched head to head contest as they race for victory they might have different paths to their own specific victory, butting heads orthogonally instead of grinding it out head-on.
Plus your tactical move on your turn will be guided by the current 10 face up cards in the common area (when a card is purchased from the 10 face up cards then its replaced with another drawn randomly from the deck of 200 cards). No two turns are alike, and no two games are alike.
The endgame is dictated by a pool of crystals that players pick up as rewards. When the last crystal is removed, the game is over. Count up your little gems, and the points of certain cards in your constructed deck to determine the winner. Easy Peasy.
We picked up our copy and the game is honestly looking pretty sweet. Check out Bored to Death TV's video review and Game Salutes Overview for more details on the game.
Here's Ascension's nitty gritty official details.
---

Ascension is a fast paced deck building game designed by Magic the Gathering Pro Tour champions Justin Gary, Rob Dougherty, and Brian Kibler, with artwork by Eric Sabee. Ascension is a deck-building game where players spend Runes to acquire more powerful cards for their deck. It offers a dynamic play experience where players have to react and adjust their strategy accordingly. Each player starts the game with a 10-card deck comprised of eight Apprentices and two Militias. Apprentices provide Runes when played, which can be used to recruit Hero and Construct cards during the game. Militias provide another type of resource, Power, when played, which is used to defeat Monsters. The game revolves around the Center Deck that contains Heroes, Constructs, and Monsters.

Contents: 200 cards, game board, storage tray, 50 deluxe honor tokens, and rulebook.

---
Read More in: Card Games | Gaming News
Share this Article with others:

Related Articles:
Came straight to this page? Visit Critical Gamers for all the latest news.
Posted by Critical Gamers Staff at September 8, 2010 5:15 PM