Small World Expansion "Be Not Afraid" Announced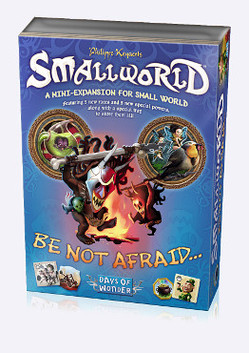 The award winning Small World board game from Days of Wonder was a smash hit last year. Not only was the original release a top notch 1v1 board game, but game quickly shipped some new expansions to make the game even deeper and interesting than before.
Now we're getting some new goodness. Be Not Afraid will include 5 new races, and a new storage case to organize all of the previous expansions. Here's the details:
---

There are many frightening inhabitants of Small World, but to survive you must Be Not Afraid...! This expansion for Small World includes a nasty lot of five new Races including Barbarians, Homunculi, Pixies, Pygmies, and greedy little Leprechauns. You'll also get five new Special Powers among which Catapult which allows you to leap over regions to conquer new lands.

Contains

5 new Race banners and tokens (Barbarians, Homunculi, Leprechauns, Pixies & Pygmies)
5 new Special Power badges (Barricade, Catapult, Corrupt, Imperial & Mercenary)
1 spare Race Banner & 1 spare Special Power badge
A tray to store the tokens from all expansions released to date

---
Small World's Be Not Afraid expansion should ship to stores in October.
Read More in: Board Games | Gaming News
Share this Article with others:

Related Articles:
Came straight to this page? Visit Critical Gamers for all the latest news.
Posted by Critical Gamers Staff at September 10, 2010 5:10 PM