Constantinopolis Board Game Hits Shelves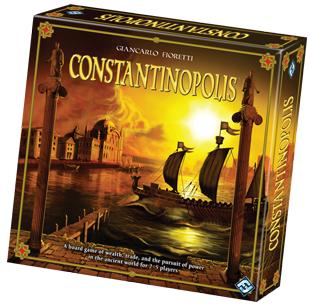 Fantasy Flight Games released Constantinopolis [Amazon, Funagain] to the uber gamer masses who attended GenCon a few short weeks ago, and now it's shipping from stores for the rest of us.
The game centers around the ancient trading city as players coordinate the purchase of production buildings and then selling the goods they produce for cash money or fame, and then parlaying their money into bigger and better production buildings. Think of the best elements of the title Pillars of the Earth mixed with production, trading and theme of the award winning Le Havre and you have a basic fundamental of whats going on.
The city itself is dynamic, and the set of buildings that are available for purchase scales with the number of players at the table. Buildings are gone once they've been purchased by a player so the state of the board shifts and develops based upon player interaction. Special delivery requests can be fulfilled from a deck of cards similar to route cards in Ticket to Ride, so the demanded goods - and therefore the types of buildings that players use - might shift a bit between plays.
Finally, there's also a tech tree of sorts for building purchases. Each building belongs to a class, A,B, C, or D, and a player cannot purchase a building of more powerful class until he owns a building of the previous class (All players start with class A buildings). It's not all about who has the most money, but who has built out the strongest infrastructure.
Simple, streamlined, easy to learn and great on repeat plays, Consantinopolis is our dark horse for economic game of the year. For more information check-out this excellent video preview of the game, or visit the game's official website at Fantasy Flight Games. Here's the product information:
---

Can you become the most famous trader in Constantinopolis? Effectively build up your trade district to produce goods, generate money, and earn fame points to ensure that your name stands above the rest!

Constantinopolis is a board game of economy and trade for 2-5 players. With light rules and a moderate play time of 1-2 hours, Constantinopolis is the perfect game for aspiring 7th century merchants.

Constantinopolis features a colorful game board and five detailed player sheets to immerse you in the intriguing world of Byzantine trade. With over 125 tiles and tokens, as well as more than 150 cards and 125 wooden pieces, Constantinopolis is an engaging and accessible entry into the world of European-style board games." - Fantasy Flight Games

---
Constantinopolis is now shipping from Amazon and Funagain Games.
Read More in: Board Games | Gaming News
Share this Article with others:

Related Articles:
Came straight to this page? Visit Critical Gamers for all the latest news.
Posted by Critical Gamers Staff at September 13, 2010 4:55 PM