Civilization Board Game Ships to Stores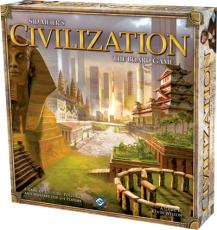 Civilization the Board Game [Amazon, Funagain] is now and shipping from stores and to a gaming table near you. Oh joyous joy of joys.. Our favorite board game system on the computer (aka Civilization 5) just got it's board game treatment from the high-quality board game house Fantasy Flight Games. Oh, and it looks awesome.
What does Civilization entail? Simple: grooming your peoples from a small city state in ancient history a full blown world civilization in the not-so-distant future through civic growth, through research, the growth and spreading of culture, and through warfare (of course). Every interesting gaming aspect of that struggle that you can think of is in the Civilization formula, or it has been groomed and reinvented through 5 award winning iterations. And they latest and greatest are in this board game incarnation.
For more information checkout the following links:
And here's Civilization's official details:
---

"Designed by Kevin Wilson, Civilization: The Board Game is inspired by the legendary video game series created by Sid Meier. Players are tasked with guiding an entire civilization throughout the ages, taking ownership of your people's technology, economy, culture, and military, as well as all the choices that go along with them. There are four different paths to victory, and each is riddled with opposition.

In Civilization: The Board Game, 2-4 players take on the roles of famous leaders in charge of historical civilizations, each with their own abilities. Players will be able to explore a module game board, build cities and buildings, fight battles, research powerful technology, and attract great people by advancing their culture. No matter what your play style is, there is a civilization for you!"

---
Read More in: Board Games | Gaming News
Share this Article with others:

Related Articles:
Came straight to this page? Visit Critical Gamers for all the latest news.
Posted by Critical Gamers Staff at November 19, 2010 5:05 PM