Dominion Prosperity Expansion on sale at Tanga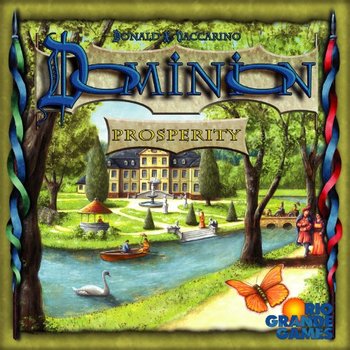 Dominion Prosperity [Amazon, Funagain] is the highest rated expansion to Dominion to date. It's also the latest and greatest in the award lining line of deck building games in a box. If you know a Dominion fan and you're looking for a great, cheap Christmas pickup, then you've just found it. Act fast!
This is quite a deal. Tanga has claimed that Dominion Prosperity [Amazon, Funagain] is on short order at most major retailers. We made a check and it's somewhat true. Amazon has a stash ready to ship. What Tanga has over Amazon, though, is price. Today Dominion Prosperity is cheaper on Tanga than anywhere we can find.
And they even throw in some deck sleeves to boot. Cover those cards before a spilled beer consumes them.
Here are the official details:
---

"Ah, money. There's nothing like the sound of coins clinking in your hands. You vastly prefer it to the sound of coins clinking in someone else's hands, or the sound of coins just sitting there in a pile that no-one can quite reach without getting up. Getting up, that's all behind you now. Life has been good to you. Just ten years ago, you were tilling your own fields in a simple straw hat. Today, your kingdom stretches from sea to sea, and your straw hat is the largest the world has ever known. You also have the world's smallest dog, and a life-size statue of yourself made out of baklava. Sure, money can't buy happiness, but it can buy envy, anger, and also this kind of blank feeling. You still have problems - troublesome neighbors that must be conquered. But this time, you'll conquer them in style.

This is the 4th addition to the game of Dominion. It adds 25 new Kingdom cards to Dominion, plus 2 new Basic cards that let players keep building up past Gold and Province. The central theme is wealth; there are treasures with abilities, cards that interact with treasures, and powerful expensive cards.

Note: You need to have Dominion the base game to play this game.

"

---
Read More in: Board Games | Card Games | Gaming News
Share this Article with others:

Related Articles:
Came straight to this page? Visit Critical Gamers for all the latest news.
Posted by Critical Gamers Staff at November 22, 2010 9:22 AM