Civilization Board Game Previews Are Tasty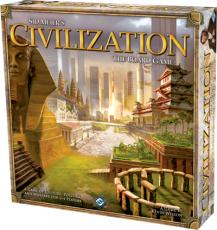 Our brains are knee deep in the mechanics of Civilization 5. Everyone here has their own game going, or has a sidecar multiplayer game developing. It's Civ 5 madness and we're loving every minute of it. And so we wait on baited breath for any and all details about the upcoming Civilization board game.
We should admit that we were a bit concerned about the game when we first heard of its upcoming release. Fantasy Flight Games is notorious for deconstructing games and then spinning complexity into the re-imagined product, either for better or for worse. Anyone who's played Civilization on the PC knows of the systems upon systems that make the series oh so sweet and complex enough to take months to master.
FFG has recently started positing some preview articles to shed some light on the game's various systems and we really like what we've seen so far. "Remaking History" kicks things off with a brief look at the numerous victory conditions for players to persue and all of the modern victory paths are there in one form or another: Technology, Culture, Economic, Military. We're stoked: another game where numerous players compete for resources but who strive for orthogonal goals. Oh how we love that stuff. And thankfully the way all these systems work have been simplified a bit for the board game.
Want proof? Checkout "On the Shoulders of Giants" which details the system of the game's technology tree. To simplify things the tech tree is actually a pyramid with interchangeable techs - no one tech leads directly to another, but a tier two tech must have two tier 1 techs in place beneath it. The whole thing seems like a really nice, elegant solution to a potentially complex mechanic.
Finally there's "Pinkies Out!" which delves into the power of Culture. This one is implemented with a progression track similar to a victory point track. Every few spaces there's a reward in th form of - what seems to be - very powerful cards to entice players to grow the civilization culturally.
Civilization the Board Game could have been a mind frag of complexity and tabulation but this incarnation is looking promising,. We like to see a bit more information regarding production counters and monies, and if that's going to turn into a swarm of tokens. Everything else though? Awesome.
We'll keep you posted as more previews are published.
Read More in: Board Games | Gaming News
Share this Article with others:

Related Articles:
Came straight to this page? Visit Critical Gamers for all the latest news.
Posted by Critical Gamers Staff at October 18, 2010 5:50 PM